"Are you motivated to get your chest pumped up?" I know you are! But just like me, we all encounter that problem wherein work or other commitments gets in your schedule which causes you to not go to the gym. Don't fret, I just have the answer to your problems. Why go to the gym when you can try some amazing Chest workout at home? It's easy and there is no need for you to hassle yourself in going to the gym every night. Just do it before you go out or when you get home. It's that easy and convenient!
More...
Workout without the Equipment? Possible!
YES. By doing your workout at home, you eliminate all the need to use weights, bars, and those heavy machines that takes a lot of space in your room. What I want to do is to help you realize that you don't need any equipment to gain that great chest form. What you only need is enough space for you to do these exercises and you're good to go.
Do the Calisthenics!
These types of Chest exercises are called Calisthenics. The main focus of Calisthenics is to increase your body strength, fitness, and overall body flexibility. Most of the movements involves pulling and pushing your body upwards, bending actions, leaping/umping and many more. Main movements will involve using your body as the resistance for your exercise. It is like using your own weight as your load to carry.
Benefits of Chest Workout Calisthenics!
Since we will be doing Chest Workout Calisthenics, let us find out what it can do for us. Here are the benefits:
#1 No Equipment Needed
No need to buy those expensive gym machineries. There are some optional support equipment that you might want to invest in if you will be doing advanced calisthenics. Push-up bars are very good support for doing your push up and other chest workouts. It can help you achieve that form in doing all the forms of push-ups available. I would suggest going for a product like the Perfect Fitness 31001 V2 elite.
#2 You can train everywhere
Given the opportunity to workout anywhere is great. It lessens you the hassle of looking for a gym and you can just do it on your home or in any open space. You can stay fit and in shape whenever and wherever.
#3 Target Different parts of the body simultaneously
This is a big benefit for any bodybuilder. Lets say you do push ups, you do not only gain benefit with your chest, your triceps are also worked out as well. Also, your core is challenged since your stomach and abs is carrying some of the load each time you push your body upward. Each exercise can hit multiple targets and can also give you multiple gains in the process.
#4 Freedom Workout
When you become expert in calisthenics, you will come to a point wherein you can reinvent your workout routine. You can try training in new environments and doing other complicated forms of workout your mind can think of. This can help you progress your body in more advanced ways.
#5 No excuse to not workout
Since you can do this anytime and you don't need any equipment, you don't have any other excuse to workout. Motivation is key with Calisthenics. That is all you need and it can give you great benefits to your body. Just keep a constant effort on your calisthenic workout and you will see the great effects.
Things to avoid when doing home chest workout training
#1 Overtraining
Don't push your chest to the limit if you want to get that hard and rock solid form. Train Better, not longer. Look for ways to get those gains in the shortest time possible. You can do that by gradually decreasing the time you take a rest per set. Recovery is important so you could make your recovery faster and avoid over-training by trying the supplements that works the best for you.
#2 Excess Shoulder rotation
A common mistake for people who do push ups is that they let the shoulders carry the weight more by rotating it instead of letting the chest muscles get involved. You deprive your other muscles from being worked and thus lessening your gains. This can also result to shoulder injuries if you accidentally tear a muscle near your shoulder.
#3 Avoiding Upper Chest workout
Never neglect on working out your upper chest. It is one of the key parts of your chest which will shape up the total form of your torso. Try chest workouts which target both upper and mid then try going for workouts for your mid to lower chest. It pays to keep a balanced workout.
#4 When you do it, do it in full!
Have you ever seen those people in the gym who lift weights like a hot a potato? They don't even lift the weight they are lifting in full, which doesn't give you any gains at all. A full motion of a pushup can give you more than 10 little motioned lifts or whatever you are doing.
It's time to Chest Workout at Home
Now that we know the basics of home workout, specifically chest workout, let's try to find out what chest workouts we can do at home. We will also tackle what each chest workout does for your body.
1. Decline push-ups (feet-raised form)
How to:
You are probably familiar with the normal push up position. Well this push will be needing either your bed, a chair, or any solid item where you can place your upper body weight to.
Place your feet onto the solid item you found and push your body upwards.
The angle of your body must only reach between 15 to 45 degrees in the whole push up process. Do not move your feet or change and position of your body. It will affect the form and the parts targeted by this pushup.
Your aim is to do 4 sets with 10 reps each. It may not be possible at first but gradually your body will adjust and you can add reps or a set every day.
Benefits:
Upper Chest – due to the shortening of the clavicular portion of the pec.
Mid torso – Depending on the wideness of the pushup form
2. Incline Push ups (Feet Lowered)
How to:
Opposite to the decline push-up, the incline push-up focuses more on lower parts of your chest.
Place your hands on the solid item and do the regular form of push-up. You will notice that your motion is downward since the weight will be coming generally from your upper body.
This motion defocuses your pushup from the shoulder and puts more work into your lower chest.
Aim to perform up to 20 reps but don't try doing 20 if you're not ready. Start with 10 then increase by 2 or 3 reps per day until you can do 20 in one set.
Benefits:
Lower Chest– due to the downward motion, more pressure is added to your lower torso
Mid torso
3. Wide Push-up/Press
How to:
Lie face down and straighten your body form. Make sure the toes are touching the floor and your hand/arm position is wider than your shoulders.
Lower your body and inhale as your motion to touch the floor.
Push your body upwards to your starting position and tighten your chest.
Pause for a second or two then go at it again with the same procedure.
Benefits:
Great for shoulder workout. More of the stress is on the shoulders
Allover chest muscles are also put to work
4. Narrow Push-up
How to:
This is a variation of the wide push-up exercise. The hands are placed below your chest. The easiest way to do this push-up is to create a "triangle" as seen on the picture above. This allows you to balance the weight between each side of the body.
As your hands are placed closer, the pressure on this exercise is higher as well. You will feel more strained because the weight is not on your shoulders anymore but solely on your arms.
When in the triangle hand position, lower your arms slowly but maintain the straight angle of your body.
Apply the same breathing exercise as with the wide push up exercise
Benefits:
Arm workout (primarily triceps and biceps)
Mid chest workout
5. One-legged Pushup
How to:
This exercise is almost the same with the normal push ups you see, only with a little variation.
Position yourself as you would do on the traditional push-up. Then raise one leg upwards (either left or right) then slowly make a downward motion of your body.
Remember to do the proper breathing exercise on this push-up (or on any other push-up form)
As you reach the floor gradually push upwards slowly until you reach your original position
After 10 reps, interchange with other foot to work out both sides of the body
Benefits:
The Primary target is your abs. Your "Trunk" is strengthened because your body form is unstable and your core will try to adjust your weight, causing the abs to get worked out
Also a great leg workout (for leg strength and balancing)
Now that we have enumerated the different Chest Calisthenic workouts for home, I hope you have enjoyed reading my tutorial. It is important for you to follow each step when trying these types workout because a wrong move or a wrong form in your procedure may cause certain injuries. So remember to exercise better and exercise safer!
What do you think about this tutorial? I would love to know your comments and suggestions on the section below. Also, if you think this can benefit someone you know, don't forget to share this article with them.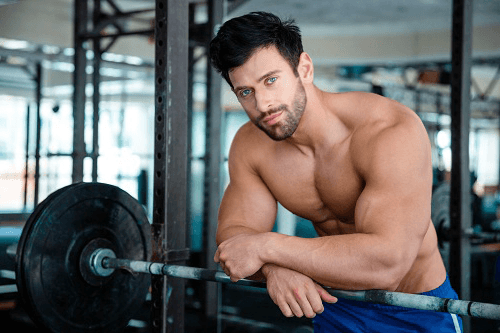 Hi there,
I'm Gregory Brown, chief editor at ConstructMuscles.com
I spend half of my time in this blog while the other half on being physical fitness trainer. Believing in the great benefits of bodybuilding and fitness to the body, I've been motivated to become a fitness enthusiast. It also was what gave me the self-confidence and assurance within myself both physically and psychologically.