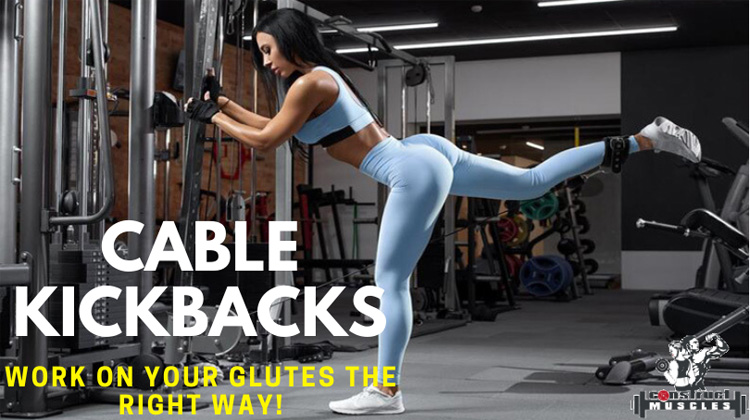 Whenever I workout, I make sure to include exercises that target my glutes. These can help target my leg muscles and perk up my booty! One exercise I decided to try out (and continue doing now) is cable kickbacks.
This cable exercise has benefited me and shown great results, but what else do you need to know about it? Read on as I talk about this exercise and how you can begin doing it, too!
What Is a Glute Kickbacks Cable?
You've probably seen gym-goers use a glute kickbacks cable, leaving you wondering: What is that?
Cable kickbacks, as the name suggests, are cable exercises that work on your glutes. It's a great leg exercise to develop and strengthen your glute muscles.
If you aren't familiar with what the glutes are, they are the largest and strongest muscles in our bodies. They consist of three parts, which are the:
Gluteus Maximus
Gluteus Medius
Gluteus Minimus
Those three muscles are responsible for keeping your pelvis and hip movements stable.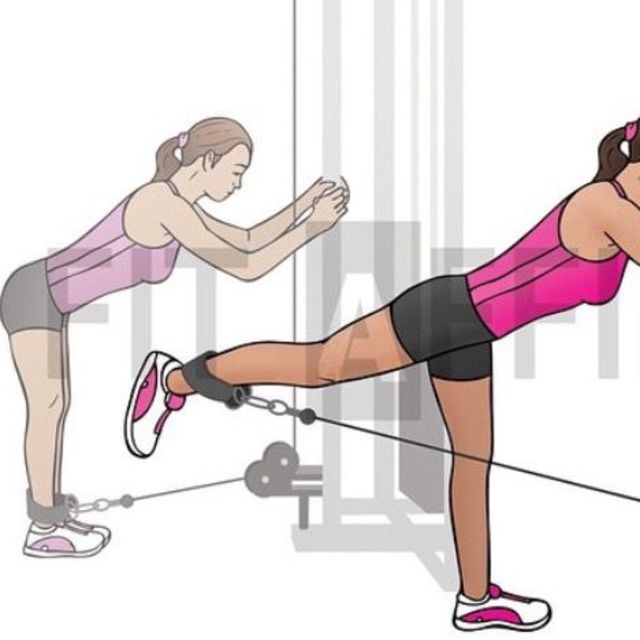 With cable kickbacks, it does look easy, but it takes a lot of skill and coordination. It can work on your strength AND looks, as well as your performance if you practice any other sports. You can use a cable machine in the gym, or when at home, use a tubing band that has cuffs with it.
In this exercise, you'll be using a weighted cable connected to your ankle. You'll lift your leg and back down, practicing proper form and posture as you do so. This move isolates the glute muscles and adds resistance, focusing solely on the glutes to strengthen and develop it.
Don't squat and lunges work on the glutes too? Yes, they do, but this has a narrower target, helping your butt more!
Why Do Cable Kickbacks?
Why should you do this exercise when you can work on the bigger muscles with squats and the like?
Strong glutes look great, but it isn't just about appearance. They serve a vital purpose, as these muscles help maintain balance and ensure you don't fall forward as you walk. Again, they are the biggest and strongest muscles in the body!
Glutes are connected to your tailbone (the coccyx) and your surrounding bones, responsible for your hip and thigh movements. Meaning, your glutes are involved as you do any major or minor movements like standing, climbing stairs, jumping, or even walking.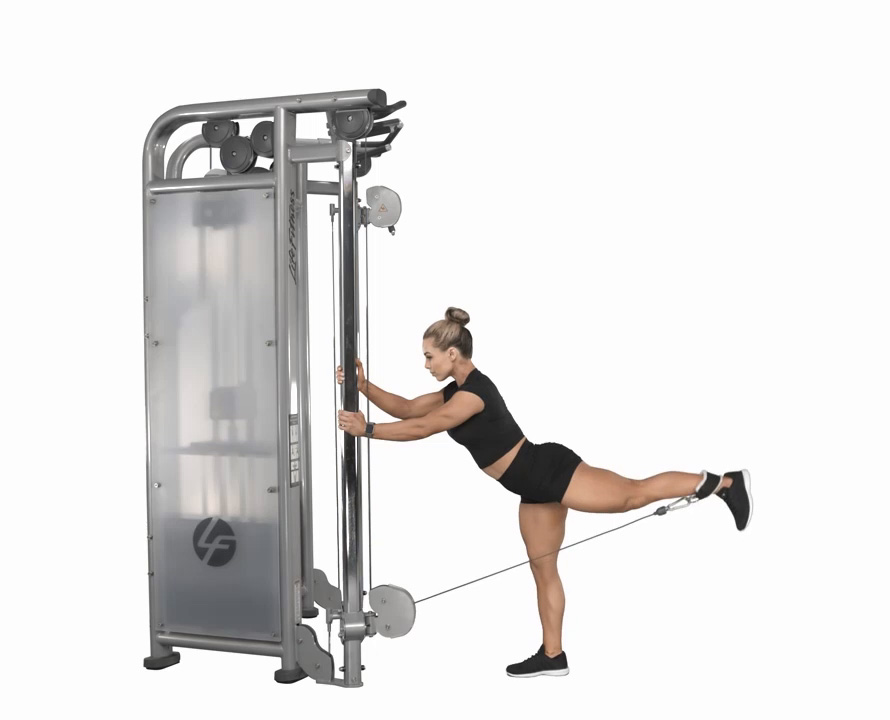 If your glutes become weak, it may cause:
Unexplained hip, knee, or heel pain
Poor posture
Lower back pain
Heel inflammation
Inability to stand using one leg only
That's why cable kickbacks are beneficial, as it solely targets the glutes and strengthens all parts, including hamstrings. The exercise will fully develop and recruit your muscles through this isolation move.
As a result, you have better posterior strength, which can have you perform better. Not only can you do exercise in better posture, but move around in good form and without pain.
One of the ideal benefits is that they can shape your legs and glutes, which is your butt! They perk your bottoms up, allowing you to look and feel even better.
BUT, you only get to reap these benefits if you do it correctly and in the proper amount of reps and sets.
How to Do Cable Kickbacks
Now that you know what cable kickbacks are, how can you perform it properly? I'll be showing you the steps to follow and some tips to keep in mind:
When at the gym, head on to the cable machine with a low cable pull. Use the ankle cuff attachment, or if not, an ankle strap or regular handle. Make sure that you can tuck your foot inside the handle comfortably and secure it to your foot and machine.
Step back a bit to feel resistance. You can use your other leg as main support, or a pole, tower, or built-in handles, which some cable machines have.
Slightly bend your knees, keeping your abs tight before you perform the kickback.
Kick your leg back slowly until the hip is extended and you feel the glute contracted. Squeeze your glute and hold the move for two seconds, then slowly put your leg down, back to the starting form.
Do 12-15 reps of this with one leg, then switch to the next leg, repeating the same number of repetitions. Rest for one minute and repeat another set. Aim to do three sets of the cable kick back.
Tips On Doing Cable Kick Backs Better
Here are extra tips and tricks to do as you perform the exercise:
Make sure that you perform a full range of motion, with your leg up rather than only half-raised.
It should take two seconds to lift your leg (concentric phase), two seconds to squeeze the glutes, then four seconds to lower your leg (eccentric phase).
Your form is CRUCIAL here, as this is an isolation exercise, focusing all on your glutes. Focus on squeezing and concentrating on your glute muscles when under load. Doing this will force more blood to the muscle fibers, which allows greater hypertrophy.
Incorporate this exercise during your lower body workout, training bigger compound exercises before this. It's best to work on bigger exercises first while the strength is up, so you're able to use the max muscle recruitment. I do the exercise as my workout ends since my glutes are activated and warmed up, being targeted directly.
Do NOT just rely on kickbacks, this is simply a bonus or accessory exercise to add after your main workout. Do bigger compound exercises such as lunges, deadlifts, hip thrusts, squats, bridges, step-ups, and the like. These also work on muscle building and strengthening the glute, among other muscles surrounding it.
It will take a few exercises before you find your ideal weight. If you can only do six reps, then lower the weight, but if you can do over 20 reps, then add on the weight. Avoid doing over 15 reps, and if you're able to do so, increase your resistance.
Wrapping It Up
When it comes to working on your glutes, you can benefit from a cable kickback. As long as you do it correctly, you can grow those muscles and have them working for your sports and activities.
Hopefully, this article all about cable kickbacks informed you of the exercise's benefits and how to do it. So start practicing how to do a cable kick back now!
Do you have any questions or want to share your tips on doing these kickbacks? Share it in the comments section below, your thoughts are much appreciated.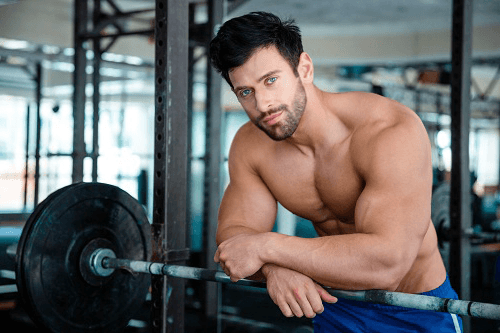 Hi there,
I'm Gregory Brown, chief editor at ConstructMuscles.com
I spend half of my time in this blog while the other half on being physical fitness trainer. Believing in the great benefits of bodybuilding and fitness to the body, I've been motivated to become a fitness enthusiast. It also was what gave me the self-confidence and assurance within myself both physically and psychologically.