Besides getting a shredded abdominal section, have you ever wondered and searched about having a "V-Cut" Abs? It is another one of those goals for aesthetic bodybuilding because of how much charisma it adds when it comes to physique. Take note that it is also another way to tell how much body fat percentage you have left in your body.
More...
It is not easy to achieve it, but working smart for it will help you reach the head-turning V-Cut Abs. A lot of speculation have been said about such thing. It is still an argument whether what comprises it to have a routine.
It is not rocket science, and honestly, it will be better if you follow my guideline for it. Having that said, I will show you How To Get V Cut Abs for your next level of aesthetics.
Amongst everything and every sport, diet is the most important when it comes to developing holistically. It affects your strength, appearance, and recovery periods. For athletes in any sports, diet hugely affects their performance in training; which is why it is our first subtopic for this article.
DIET
1. Fat
Having a low body-fat percentage means a ripped and attracting body. The lower you go with your body-fat count, the more shredded you will be. You will have a real "high-definition" body, and every muscle you have will show up.
Do you even know that eating fat can contribute to building muscle and quicker metabolism? As long as you eat healthy fats such as Omega, it will promote a healthier lifestyle and lower blood cholesterol.
If you are undergoing a low-carb diet, fat will become your new main energy source. It is an ideal substitute since our body synthesizes fat slower than sugar. It is substantial for those who are trying to cut body weight and grow leaner muscle.
2. High Protein
Everyone should know that higher protein intake simply means more muscle. Although, an ideal protein count is 1 gram per body weight in pounds. Studies show that an excessive amount of protein (precisely meat) can lead to abnormal colon movement and digestion.
Find vegetable-based protein which a high value. Broccoli is one of the best vegetable-based proteins out there. We can suggest Soy as well, but there were some researches done that it promotes estrogen and suppresses testosterone; be very careful about it.
3. Carb Cycle
Carbs are one of the important factors when it comes to lifting. Although in bodybuilding, we want to have a more ripped and toned look. It is good when you are in the bulking phase but not in your cutting cycle.
Carbs are sugar, and depending on what kind of carbs you take, it has a different sugar composition. Brown Rice and Sweet Potatoes are great carb sources because they lower sugar content. In addition to that, brown or wild rice are also rich in fiber to help muscle tissue recovery and colon digestion.
Another tip on taking carbs is, load up the night before your 1RM retest day. This will help you store your glycogen, and break it down for an energy boost during your workouts. You can go above your usual intake for the situation.
WORKOUTS
Now that you have been given knowledge about your nutrition and diet, it is time to your work in. Going light is not always the way but, it will as well. We want compound and heavy workouts in the mix for a testosterone boost.
#1. Squats
It is the king of mass builders and whole body workouts. Everything is engaged when you perform squats. Keeping your core tight throughout the movement is a must to keep your stability. It will help you develop your entire abdominal section, and it will be a big help to attain your V-Cut Abs. Use your knee sleeves and shoes if you are planning to go heavier.
#2. Deadlifts
The exercise that best competes with squats. Again, everything is activated in the workout. Since we utilize our hips more when it comes to deadlifts, it burns all the love handles; which makes the oblique and lower abs become more visible. Use your lifting straps and weightlifting belt to support you on the lift.
#3. Hanging Leg-Raises
Normal leg raises can also work, but let's have a bit more of a challenge when it comes to leg raises. You need to engage mid-section for you to stabilize and not swing around when you are performing the workout. You need to have a strict form through the movement. It would be best if you perform this workout on a power tower.
#4. Flutters
The workout that is perfect to end any workout or ab session. The way to do this is not to count by reps, but as much as you can in under a time limit. Make sure that you stay tight and don't cheat the movement.
#5. Ab Roller
The Ab Roller is a nice workout that covers a large section of your abs. I suggest that you purchase an ab carver pro, for an easier assist on the way back to the starting position.
SUPPLEMENTATION
SupplementationLet's add supplements with your nutrition for an optimal result.
#1. Protein Shakes
Whey protein shakes are great recovery supplements because it can "travel" to your muscles faster. It prevents inflammation from occurring after a long day's workout
#2. Fat-Burners
It can be natural to people that they have a hard time burning fat. Thermogenic fat burners can help you with it. It has caffeine and other stimulants that can give a quick energy boost before your workouts. It gets your heart rate up and burns fat gradually throughout the day.
REMINDER: make sure that you never exceed its recommended dosage in a day.
#3. Creatine
Creatine promotes muscle growth by helping the sarcoplasm go through the muscle. Be careful as there have been reports of UTI while consuming creatine. Just take five grams daily on your regular or maintenance cycle. You can take it anytime you want within the day.
Conclusion
Now you are informed on How to Get V-cut Abs, and it isn't that hard right? It is just the same as how to grow your muscles. It kind of matters in genetics as well, because some people may have underdeveloped abdominals no matter how much they train for it. Avoid overtraining and work smart instead.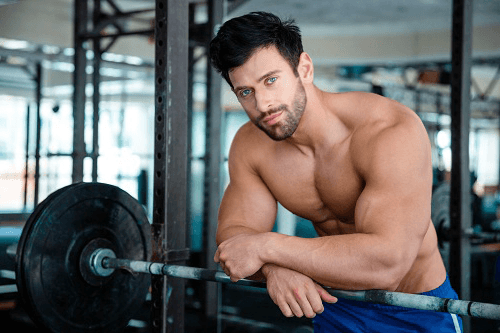 Hi there,
I'm Gregory Brown, chief editor at ConstructMuscles.com
I spend half of my time in this blog while the other half on being physical fitness trainer. Believing in the great benefits of bodybuilding and fitness to the body, I've been motivated to become a fitness enthusiast. It also was what gave me the self-confidence and assurance within myself both physically and psychologically.