When you're trying to achieve fitness goals, warming up the muscles for the workout that follows is essential. This prevents ruptures and other injuries, as well as alleviates next-day soreness. Thus, you will be able to perform a lot better. But even though everyone knows the importance of this practice, few people actually focus on a little something called the hip flexors.
Hip Flexors – Why You Should Pay Them More Attention When Working Out
THE IMPORTANCE OF HIP FLEXORS
The term 'hip flexors' is a collective denomination for a group of muscles consisting of the iliacus and psoas major, or the iliopsoas for short, and the rectus femoris which is part of one's quadriceps. They are in charge of lifting the knee towards the body, a motion that is common during most exercise sessions.
Although this group of muscles is often overlooked during workouts, hip stretches should become a staple in everyone's routine. The hip flexors become easily strained when overused without a proper warm-up. When this happens, you will find that you are experiencing sudden pain in the region, accompanied by spasms, tenderness, and even swelling or bruising.
The manifestations become most prominent when running or walking. Although the affliction is commonly associated with performance athletes, such as dancers, cyclists, or football players, everyone can become subject to it if the proper warm-up of the region is not performed. Thus, this area is as fragile as it is indispensable.
BEST STRETCHING EXERCISES
The easiest way to prevent hip flexor strains is by incorporating targeted stretches in your regular exercise routine. This prepares the muscles for the exerted effort that will follow, thus impeding any tears or overall damage from being inflicted by vigorous motions. Not only will you reach your objectives faster, but you will also feel more comfortable overall.
But while the concept might sound simple enough, it's important to engage all the muscles of the group in your warm-up. Of course, targeted movements are the perfect way to do that efficiently. Here are three of the best examples of stretches for your hip flexor muscles that are effective and easy to pursue at home.
#1.Kneeling Hip Flexor Stretch
The classic exercise in this category certainly has to be the kneeling hip flexor stretch. To perform it, you first need to kneel on your right knee while maintaining the left foot flat on the floor. Place your hand on your left thigh and make sure that the bent knee is aligned with the corresponding ankle to achieve proper posture.
Next, press your hips forward. You should stop when you feel pressure in the right thigh. Then, raise your arms over your head and arch your back to engage the core. Your chin should be parallel with the ground at this point. Hold this pose for 30 seconds, then switch legs and repeat on the other side.
#2.Butterfly Stretch
Another easy stretch to perform at home is the butterfly pose. This can be easily executed regarded of your skill level. To start out, sit down on the floor with your legs straight in front of you. Then, sit as upright as possible, and bring the soles of the feet together until they touch. Holding onto the ankles, pull the feet towards your pelvis.
In order to feel the stretch, lean forward until you experience a bit of tightness. Do not push yourself too much though, because it might result in the aforementioned hip flexor strains. Hold the pose for a minimum of five seconds to achieve the best results. If possible, you can go for as long as ten.
#3.Seated Straddle Stretch
This stretch is a powerhouse for the body because it goes beyond exercising your hip flexors. It also engages the back and the legs, and it is an amazing flexibility enhancer. To perform it, sit on the floor and spread your legs as far apart as possible. Depending on how tall you are, it is ideal to maintain three to four feet between them.
If this is not possible, don't try to push your limits too much. Over time, you will become more limber and be able to execute it perfectly. Once you are in the right position, take a deep breath and exhale as you lower your body forward. Rest your hands on your legs or on the floor and hold the position for five deep breaths in total.
Warming up the muscles is essential to a good workout. Although the hip flexors are often overlooked, they are an essential group to focus on because they support indispensable movements. A proper routine that includes them is beneficial for reaching goals, but also for avoiding future complications such as strains or tears.
For this reason, every fitness enthusiast should try the stretches presented above. They are a viable way to incorporate these crucial muscles into every routine. What is more, they help engage other areas of the body as well, which makes them a win on all sides.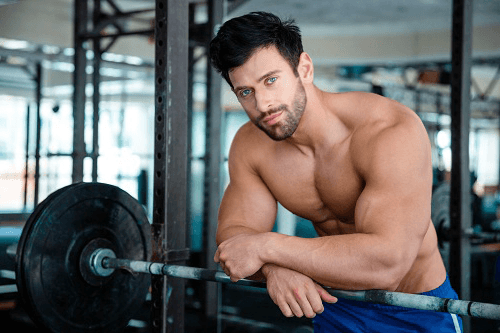 Hi there,
I'm Gregory Brown, chief editor at ConstructMuscles.com
I spend half of my time in this blog while the other half on being physical fitness trainer. Believing in the great benefits of bodybuilding and fitness to the body, I've been motivated to become a fitness enthusiast. It also was what gave me the self-confidence and assurance within myself both physically and psychologically.