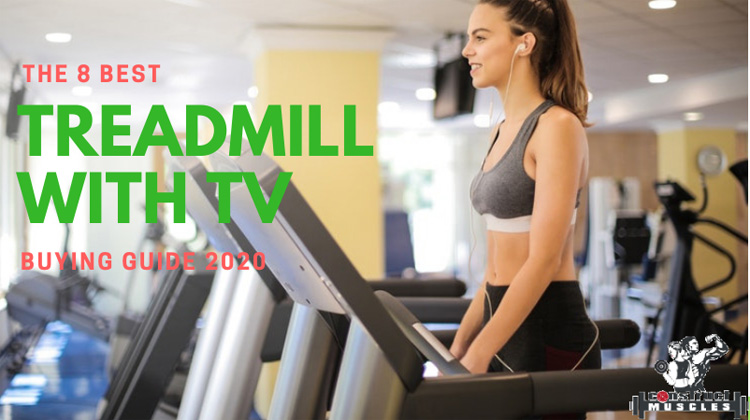 Are you looking for a Treadmill with TV ? These are such handy devices that really help keep you on track with your running goals without getting bored! Fortunately, there are a lot of manufacturers that offer such treadmills, but the question is: What's the best one for you?
I'll help you out here! I reviewed the 8 best treadmills that come with TV screens AND a purchasing guide on how to select one.
The 8 Best Treadmill With TV Reviews
Wondering what the best treadmill with TV monitor is for you? These are my eight choices you can choose from:
1. ProForm PFTL60916-505 CST Treadmill
If you're looking for the ultimate treadmill, I highly recommend the ProForm CST. It's a sleek designed treadmill that has the capacity to accommodate any beginner or advanced runner. It comes complete with a 1-month iFit membership and unlimited workout programs to help you reach any fitness goal!
The treadmill also features a large and clear LCD window with 18 workout apps, and a good speed variety and incline. The options are almost limitless and you can stay entertained with its easy-to-use monitor.
Specifications:
Product dimensions: 74 x 37 x 61 inches
Weight: 203 pounds
Weight limit: 325 pounds
Power: 2.5 CHP
Pros:
Comes with an iFit membership and various workout programs
Has the space-saving and foldable design
Variety of speed and incline
Comes with a great quality speaker to play music
Cons:
It's heavy and requires two people for setup
A bit difficult getting the membership started
2. ProForm PFTL15116 PRO-5000 Treadmill
Another similar treadmill to the editor's choice is the ProForm PRO-5000 Treadmill. What makes it different is that it comes with the more powerful motor, made for those who want to run further. While a bit pricier compared to the CST Treadmill, you get the bells and whistles!
This treadmill has a 7-inch touchscreen that offers 34 workout apps and easy-to-control options. Just be wary about its care and maintenance, as it might not be as durable compared to other treadmills. Beyond that, this is a treadmill for running at home that does its job well.
Specifications:
Product dimensions: 74 x 37 x 61 inches
Weight: 278 pounds
Weight limit: 300 pounds
Power: 4 CHP
Pros:
Powerful motor that can reach faster speeds and inclines
High-quality colored touchscreen and sounds
It comes with an accurate heart rate monitor
Cons:
Sometimes produces random squeaks when in use
Requires more care and maintenance to last longer
3. FreeMotion Treadmill
The FreeMotion Treadmill is made for those who want larger screens and higher weight capacity! It comes with the 15-inch HD TV monitor and a 10-inch touch display to control your speed and incline. There are also 40 different workout apps and programs to choose from for versatility, anyone in the household can use it!
As for its ease of use, it has excellent power and construction built to last. With its 400-pound weight capacity, more people can use it without the worry of it breaking down.
Specifications:
Product dimensions: 77 x 22 x 57 inches
Weight: 296 pounds
Weight limit: 400 pounds
Power: 4.25 CHP
Pros:
Higher weight capacity and powerful motor
Bigger HD TV for your entertainment and a better view
Made with high-quality material and construction to last long
Cons:
Difficult to put together, takes time to get used to
Limited internet access, doesn't load certain websites
4. NordicTrack T-Series Treadmill
The NordicTrack T-Series Treadmill is known for its amazing quality display. Though it doesn't have the extreme features and power, it's enough for beginners and frequent runners. As most NordicTrack treadmills, it includes a 1-year iFit membership for more training and programs.
As for its convenient features, it includes workout fans and a grip pulse for accurate calorie burns. What makes it a better choice is its SpaceSaver design, made for those who live in smaller areas. If you're a beginner who wants a great TV, then this is for you.
Specifications:
Product dimensions: 77 x 22 x 57 inches
Weight: 254 pounds
Weight limit: 300 pounds
Power: 3.5 CHP
Pros:
Good TV monitor that responds well to touch
Easy to use and control the different options
Roomy design for bigger runners and space-saving
Cons:
Free membership isn't actually free for some
A bit heavy for a space-saving treadmill
5. NordicTrack Commercial Series Treadmill
Another one from NordicTrack, the Commercial Series Treadmills are made best for homeowners who want a personal trainer. It comes with the 1-year membership so you have access to many workout programs fit for your goals.
But what makes this treadmill unique is its bigger and higher-quality screen! It has the HD Smart touchscreen display to show your workouts AND media. Furthermore, it comes with Autobreeze workout fans and high technology for your convenience.
As always, the NordicTrack also keeps space in mind, so if you want a bigger screen and more workouts, you'll like this one.
Specifications:
Product dimensions: 77 x 22 x 57 inches
Weight: 350 pounds
Weight limit: 300 pounds
Power: 4.25 CHP
Pros:
Huge HD Smart TV screen for better entertainment
Higher incline compared to other treadmills
Powerful motor without noise
Cons:
Expensive membership after trial expires
Very heavy and takes three people to move
6. NordicTrack T-Series 6.5S Model Treadmill
We have the NordicTrack T-Series again, but this time, I want to commend the 6.5S models. What makes them unique is their noise-canceling motors and their self-cooling technology. You stay cool while the treadmill avoids overheating even with intense runs and higher inclines.
While it isn't as powerful compared to other NordicTrack treadmills, it still packs a punch. There are even convenient extras like cup holders and automatic inclines. You can run up to 10MPH at a 10% incline, made for beginners and frequent runners.
Specifications:
Product dimensions: 77 x 22 x 57 inches
Weight: 198 pounds
Weight limit: 300 pounds
Power: 2.6 CHP
Pros:
It has very large cup holders to hold anything
The great and responsive incline that adjusts automatically
There is no shaking and minimal noise
Cons:
The panel speakers aren't as high-quality
Warranty information isn't accurate to what's stated
7. ProForm PRO-9000 Treadmill
If your main focus is power and more intensity, then you'll appreciate the ProForm Pro-9000 Treadmill. It's got the powerful motor and the excellent 10-inch screen that can help you stay focused on your workouts. It also comes with 38 different workout apps and clear audio for entertainment!
The treadmill also comes with workout fans, convenient holders, and a heart rate monitor. That way, you can run without issues and track your progress accurately. While it lacks connectivity, it's still a great choice for the power it offers.
Specifications:
Product dimensions: 77 x 39 x 70 inches
Weight: 300 pounds
Weight limit: 300 pounds
Power: 4.25 CHP
Pros:
Great power to build up speed and incline
Many different apps and programs for your goal
High-quality screen and audio for entertainment
Cons:
Has no built-in web browser or Bluetooth connectivity
Some complaints of bad customer service
8. ProForm Power 1295i Treadmill
And lastly, I'd like to commend the ProForm Power Treadmill for its simplicity and price. While affordable, it doesn't scrimp on its features and performance. The treadmill comes with the 7-inch full-color touchscreen, as well as various workout apps and programs for any runner.
It also has the powerful 3.5 CHP motor that can go as quickly as 12 MPH and a 15% incline tp push you to the limits. Coming with the convenient extras such as a tablet holder and Bluetooth compatibility, it's definitely worth looking at.
Specifications:
Product dimensions: 81 x 37 x 67 inches
Weight: 225 pounds
Weight limit: 350 pounds
Power: 3.5 CHP
Pros:
It offers sturdy and quiet performance
Built with a very powerful motor for intense runs
Good connectivity and Bluetooth compatibility for devices
Cons:
May be a bit difficult to assemble alone
Small font, tough to read
Why Get a Treadmill With TV?
You're probably wondering: What's so cool about getting a treadmill with TV? You'll be surprised by how this exercise equipment can do wonders for your home, with benefits like:
We all know how boring it gets working out without entertainment. With a TV monitor on the treadmill, you can have fun working out while playing your favorite music and videos.
There are a ton of health benefits walking and running offers, especially for your cardiovascular system. This can help improve blood circulation, lower blood pressure, and strengthen your heart!
Those who have type 2 diabetes can also benefit from daily exercises on treadmills. Regular exercise can reduce blood sugar and controls insulin in the body.
How to Purchase the Best Treadmills With TV Screens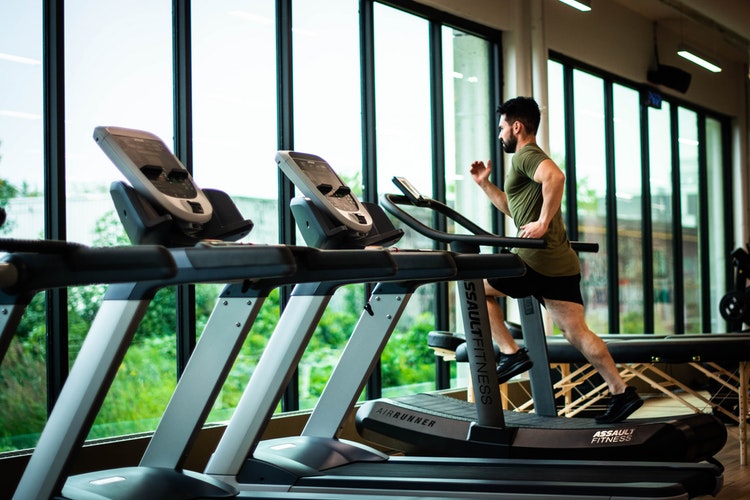 Now that you know about the best treadmills with TV screens, how can you narrow down your choices? Here are the important factors to consider:
1. Workout Space and Treadmill Size
This is one of the crucial factors to look into! You wouldn't want your treadmill to take up all the room's space, so make sure you measure the area you plan to place it in.
If you're too tight on space, then you may want to consider getting a compact treadmill that fits under bed. They are convenient and fold able to store anywhere at home.
Be sure to measure the allocated area's length and width, and find a treadmill with slightly smaller measurements for leeway.
2. What Workouts Will You Do?
Treadmills today come with preloaded workout programs and/or apps to connect with. If you're a beginner, this can help you out! You'll have your own fitness coach without the need to pay for it.
However, not all treadmills have suitable fitness programs or apps you'd like. Make sure that you check the chosen treadmill and find out what programs and workouts they offer. Consider what you usually do like exercise, whether you want something calm and relaxing (like walks), slow jogs, or professional-like regimens.
3. The Features You'll Use
There are so many treadmills offered and what makes them different among each other are the features they offer. Some features can improve your exercise experience, while others make things easier. When looking into such functions, you have to think about luxury vs necessity.
Automated incline to work your legs even better
Internet connection with your television to play more than just shows
Built-in fan to keep you cool while you run
Heartbeat monitors to accurately keep track of how much you burn
Device holder or cup holder
4. TV Resolution and Connectivity
You're getting a treadmill with TV, so you should also look into the monitor's quality. It should provide a clear output that can play your media well. You may even consider getting a touch screen TV, or one that comes with its own remote control for ease of use.
Furthermore, think about the connectivity, choosing treadmills that are able to connect with your devices. This makes it easier to play your music or videos.
5. Ease of Installation
Fortunately, treadmills are fairly easy to install, even without extra help. Usually, they take about two hours to do so, or less if you hire a professional.
Whatever the choice, I highly recommend that you find a treadmill that doesn't take long to assemble. You wouldn't want to be stuck all day working on it, or dealing with complicated parts.
If you choose a compact treadmill under bed, then it should be easy to assemble and fold down for storage.
6. Weight Capacity and Ease of Movement
The general weight capacity on a treadmill with TV would range between 250 to 400 pounds.
I recommend that you invest in one that can withstand 50 pounds more than your current weight. Check your weight and the treadmill's capacity before selecting one, there are other treadmills that can also cater to heavier weights.
Also, consider your ease of movement when on the treadmill. It should be spacious enough for you to feel comfortable while you exercise.
7. Horsepower and Speed Limit
The power you need depends on your exercising style. If you're focused more on walking, then you can make do with a treadmill that provides 2CHP. For jugging or running, 3CHP works well.
Besides the workout style, your weight and workout intensity may demand even more power. If you weigh over 200 pounds of having intense runs, consider getting a treadmill that offers 4CHP.
Wrapping It Up
If you want to stay entertained while you exercise, then a treadmill with TV is best for you! As long as you choose the RIGHT one made for your wants and needs, you can start reaching fitness goals and stay entertained.
Hopefully, this article on the best treadmills with TV helped you out! So don't wait any longer and begin looking into investing in any of these treadmills now.
Do you have any questions or would like to share your reviews on these treadmills, comment below. All your thoughts are much appreciated!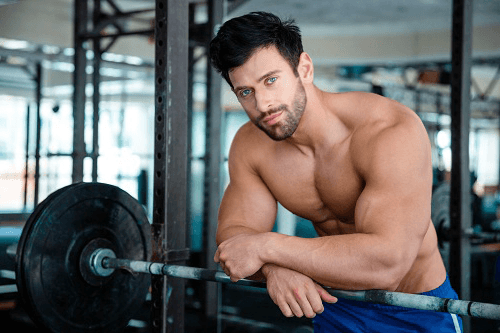 Hi there,
I'm Gregory Brown, chief editor at ConstructMuscles.com
I spend half of my time in this blog while the other half on being physical fitness trainer. Believing in the great benefits of bodybuilding and fitness to the body, I've been motivated to become a fitness enthusiast. It also was what gave me the self-confidence and assurance within myself both physically and psychologically.