Sometimes, we cannot always rely on external weight equipment to improve our strength. If we can master our body weight, you will be surprised at the results it can give you. Bodyweight training or Calisthenics is an excellent example of how to find the balance within your body. One of the exercises from it is Dips. It's hard to do when you don't have to technique yet.
More...
Best Dips Exercises For Beginners
We are going to teach you how to progress from it, and what accessory works you can do to achieve it. So, what is the Best Dip For Beginners? You will find out along the way, and you will be able to move from there after you've learned the secrets.
Necessary Equipments
Why do we need the listed equipment? It is because we will need them to assist you to get your dips correctly. As mentioned, it is one of the most challenging bodyweight movements, especially, for beginners.
From the looks of it, it already seems like you already know what variety of Dips I am trying to get to here. It can already be an accessory work and a progression at the same time while you are still learning how to get the proper form for it.
The Best Dips For Beginners – Banded Dips
The only best dip for beginners, and actually for everyone, is the traditional dip. It is the movement where you do it the power rack. For beginners, all you need to do is just attach a resistance band, and you can work from there. We all know that there are levels of stiffness for resistance bands.
You need to perform them in reps if you are just starting out. Once you think that you are able to do it effortlessly, then it is about time to decrease the level of stiffness, until you are able to do it on your own.
If you don't have resistance, you can do negatives on the way down, then go back to the starting position without pressing. It will help you develop your strength for it. You can also kip to allow you to use the momentum and aid you with pushing yourself.
Another variant I could suggest would be bench dips, but it is more of an upper body work only. Unlike with the conventional dips, there are a lot of muscle work for it. It involves working the core for stability so that you are not swaying back and forth while doing the dips.
Workouts That Can Help Develop
#1. Bench Press
The bench press is the king of the upper body and pushing exercise. Most will think that your chest and arms are the only ones activated during the movement, but there is more to it than that. Your front deltoids are involved, and you feel the same way while you are executing the dips.
#2. Close-Grip Bench Press
The pressing variant will be more focused on your triceps that on your chest. If you are going to apply this for the dips, it would be of big help especially if you are halfway through the movement to help you control yourself ascending and descending.
#3. Hammer Grip Dumbbell Press
When you perform a dip, in most cases, your palms are facing your body. The hammer grip bench press is done to simulate the movement and the feel of pushing the weight because some people may not be strong with a hammer grip (neutral grip for other people) and exert more effort on the conventional bench or pressing grip.
#4. Tricep Pushdown
Based on my experience, this helped me a lot for my dips regarding endurance. Because you can do a lot of reps when you are doing the triceps pushdown, and it will help you build up your muscle stamina for that area. Another thing is, the difference of this triceps exercise from the close grip bench press, is the area it targets. It aims for the big head which is mainly used when you push yourself up from the dips.
#5. Narrow Push-Ups
It might seem irrelevant, but it is also of great help to be able to do this as an accessory work. It is done to get the gist of your body because you partially carry your weight when it comes to the push-ups. I mean the bench-press is already available for your pushing strength, but this workout is effective as well.
#6. Hanging Leg Raises
You might ask yourself, "this is not even a pressing movement, but why is this included?" as I mentioned a while ago, you need your core strength to stabilize yourself during the movement. Performing Crunches will not give you that core stability and stamina, but it will only give you muscle endurance and aesthetics.
You have to keep your core tight for this movement because if you don't, the same swaying motion will happen to you if you don't keep yourself stabilized for the movement.
Reminders
The Dips are not meant for everyone. Depending on your built and biomechanics, you can also get injured from the exercise itself. You can get a shoulder dislocation from it as well if you overdo it.
Mobilize before training. Since it will require you to use a lot of joints and muscles, it is important that you warm up and do mobility exercises beforehand.
Wear wrist wraps while you are doing dips. It places a lot of pressure on your lifts, and we wouldn't desire to dislocate your wrists. Although, you don't have to rely on it all the time. It is why you need to mobilize your wrists as well to "bulletproof" them.
Conclusion
There is you Best Dips Exercise for Beginners. It is not that hard when you get to learn the technique. With the resistance bands, it allows you stay in place while you master the form of the movement. You don't always have to include this movement in your exercise since it is dangerous and an unnatural movement for the body.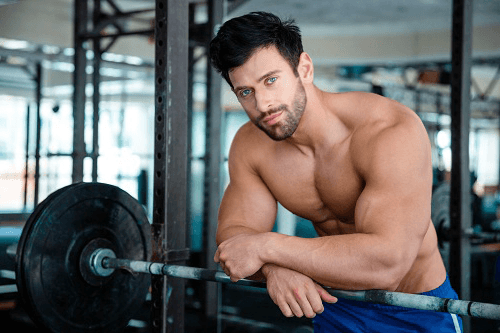 Hi there,
I'm Gregory Brown, chief editor at ConstructMuscles.com
I spend half of my time in this blog while the other half on being physical fitness trainer. Believing in the great benefits of bodybuilding and fitness to the body, I've been motivated to become a fitness enthusiast. It also was what gave me the self-confidence and assurance within myself both physically and psychologically.