A lot of times we don't consider adding dips to our program because it is not an exercise that builds our strength. We only find Bench Press and Overhead Press as our main workout to increase our upper body strength.
If ever you feel pain on your shoulder area while doing dips, I highly recommend discontinuing the workout. Another suggestion could be is that you can try to reduce the range of motion, or try other varieties of dips that would be comfortable for you. If you are starting out, I suggest that you use resistance bands for assistance.
What if I tell you that doing dips can build your upper body size and strength? Not only that it works your chest, front deltoids, and triceps, but it also engages different muscle groups during the motion. We often oversee the details of every exercise, and we only think that the muscle group that is active is what the movement is.
More...
What muscles do dips work? Certain muscle groups are engaged no matter what variety of dips you are doing.
JUST A PRECAUTION!!!
Dips may not be safe for other people to do. If you have a history of joint problems on your shoulder, then I suggest that you may discontinue doing this workout. Dips would most likely put a lot of pressure on your shoulder joints, and it would have a tendency to be very painful.
If ever you feel pain on your shoulder area while doing dips, I highly recommend discontinuing the workout. Another suggestion could be is that you can try to reduce the range of motion, or try other varieties of dips that would be comfortable for you.
SO, WHAT MUSCLES DO DIPS WORK?
Pectorals
The pecs are one of the primary muscle groups that you are engaging in the workout. The deeper you go into the dips, the more stretch you will feel on your pectoral muscles. The hand placement will also matter which part of the pec you want to emphasize.
Arms Parallel to the

Body

- The lower pec will be more emphasized if you align your arms to your body.

Arms grip behind the body

- This will stretch your pec further, it will have a similar effect to what a dumbbell bench fly would do. The only difference is dumbbell bench fly is more of an isometric workout, while the dips is a compound body movement.
Triceps
Triceps is the muscle group that gives the pushing strength when executing the dip. It targets all the heads of the triceps since this is also being used to control your movement. The lower you go into the dip; more areas of the triceps will receive tension. Keep in mind that going deep into the dips will give you strength, quickness, and explosiveness on your pushing movements.
Anterior deltoids
As mentioned above, doing dips will put stress on your shoulders. If you notice while doing bench press, your front deltoids are also engaged. You will feel the soreness after doing a couple of sets of any types of bench press whether if it is incline or decline. It is similarly applicable for the dips. It is active throughout the entire movement whether if it's the eccentric, static or concentric phase of motion.
Core
Knowing what muscles do dips work, the core is activated throughout the entire movement. You need to stabilize yourself while doing the dip exercise, or else you will have a poor execution of the movement. If you don't maintain yourself during the dip, you will notice yourself swinging back and forth, and mind you that this could lead to injuries.
Every time you do the dip, keep your core activated and keep your core tight. Take squats as an example, before you go down, you take a deep breath and tighten up your core. It is also similar to doing dips, but you have to keep your core tight throughout the movement for stability.
Trapezius
When you're down in the dip, that is when your trapezius come to work. You feel the squeeze at your traps at the bottom of the movement, and in the pushing movement. The more you place your hand further behind to the body, the more you feel the trapezius put into play; although I don't suggest doing this since it will deal a lot of pressure and tension on your shoulder joints.
VARIETIES OF DIPS
Parallel Bar Dips
Parallel Bar Dips is the common type to do. You can use a power tower for this exercise. Changing the placement of your arms will put different emphasis on the activated muscles mentioned above.
Bench Dips
Bench dips would put more tension on the triceps than the other muscles. The closer you bring your arms to your body; more pressure is on your triceps. If you bring your arms further from your body, you will feel more stress on your front deltoids.
Ring dips
In my opinion, Ring Dips is the most challenging variety amongst all dips. The rings are not stable. Therefore, you need to control your movement all the time. Your core muscle will be more activated through the action as you're trying to stay still on the ring dips. You can't go fast with your movements with ring dips; you need to have a nice and controlled full range of motion throughout the exercise.
TIPS
Supplement - Take some supplements to increase your recovery rate and muscle growth.
Multivitamins - If you are currently taking multivitamins, please do so. Your body will need vitamins and minerals to protect your joints.
Rest - You don't need to work on your dips every single day. Give it time to recover and strengthen the muscles. Overtraining doesn't usually give you a satisfactory result. It doesn't grow quality muscles as well.
Adding weight - It is not necessary to add weight, but if you want to do then, by all means, do so. I would suggest adding weight when you can do 15 clean reps with a slight struggle.
Diet and Nutrition - Have knowledge on what food to eat to grow bigger and stronger.
CONCLUSION
We always think that body movement exercises don't give much strength as doing barbell workouts or dumbbell exercises. Given the idea of what muscles do dips work says a lot about the certain exercise.
In fact, body movement exercises will give you explosiveness and strength as well. Just because it doesn't need weights, doesn't mean that it is not challenging to do. Being able to master and control the body, develops neurological synchronization to your body parts. If you have any other suggestions that will help our readers, please comment below. Share this article with your fellow community.
REFERENCES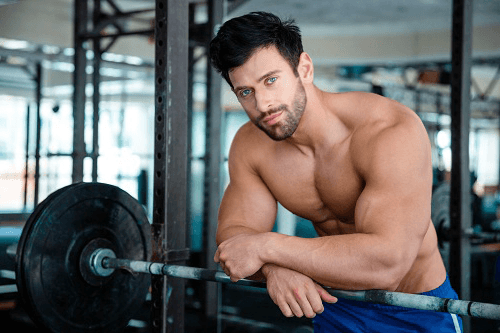 Hi there,
I'm Gregory Brown, chief editor at ConstructMuscles.com
I spend half of my time in this blog while the other half on being physical fitness trainer. Believing in the great benefits of bodybuilding and fitness to the body, I've been motivated to become a fitness enthusiast. It also was what gave me the self-confidence and assurance within myself both physically and psychologically.