The back is by far one of the most "not-so-exercised" parts of the body next to the legs. Why? Because people place to much importance on their chests, biceps, triceps as they are easier to build and show more on the body. I bet you are like most of these people who never know what it really means to work some exercises for your middle back.
There are actually many benefits for you, some of which are; good posture, better metabolism rate, and you get that V-shaped form on your back which is simply perfect in the eyes of those around you. I bet you're excited now right? Let's head on to the tutorial for exercises for middle back!
More...
Where is the mid back muscle?
In the picture above, you can locate your middle back muscles by looking at the rhomboids. The rhomboids are the main muscles of your mid back area.
You can work out your middle back by doing exercises which does not focus only one muscles but on different areas of the body.
By working on your middle back, you can help your body prevent certain injuries and maintain that proper posture, which is very important to all bodybuilders.
Reasons why it's tough to fully develop the middle back
YOU CAN'T SEE IT WHEN YOU TRAIN IT
It's hard to develop what you can't see right? Unlike when working out your chest where your eyes and your mind is definitely connected to the whole workout, it's not the same with back workouts. You really need a mirror or maybe set your mind on the whole "I must see what I work" mentality.
POOR FORM
And because you can't see your back during work outs, you probably are not watching your form either. There may come times wherein you are having a hard time stretching or squeezing those muscles at certain moments when they need to be done. In this process, you fail to achieve in working the whole of the muscles you have targeted. They come underworked and thus, no development occurs.
HARD TO TARGET
There are very specific exercises for mid back training. There is no one exercise that focuses on this area so you will have to try different exercises that targets both your mid back and another one or two areas of your body. This type of training is called "Compound Training". Learn each form and step for this one as it will determine how your lower back form will appear. They may sound complicated but what you only need is patience and presence of mind to get that mid back workout you have always wanted.
Top 5 Exercises for Middle Back and their step-by-step procedures
Now that we've covered all the intro-essentials, let's get to the main part. Here are the Top 5 Mid-Back exercises and their step-by-step procedures:
#1. Behind the Back Shrug
Get a Barbell bar, preferably the one which matches your shoulder width and load the weights.
Stand with your body facing away from the barbell bar. Make sure that your feet have a shoulder width gap.
On this exercise, you will be using only the knees as source of your motion. Other body parts have to remain stable during your movements.
Bend your knees and pick up the barbell behind you with both hands. Your palms should be facing behind (this is called overhand grip).
Relax your shoulders first

before

lifting. Once the barbell is in your lower back area and you have stabilized your knees, this will serve as the starting position of the exercise.
Then do a shrug with your shoulder as high as that shrug can reach Take it slow so you can execute the proper form.
Pause at the peak of the shrug then slowly lower that barbell back to the starting position Repeat from starting position
Targets:
Mid Back workout
Triceps workout
#2. Cable Seated Row
This exercise will require you to use the low pulley row machine you have at your gym. Use the V-bar during this exercise because you will be needing a neutral grip on this exercise.
Sit down on the machine your feet should be at the front bar (this is the T-Bar at the lower front of the machine). Bend your knees slightly and this will serve now as your starting position.
Lean forward to grab the V-bar handle and make sure that your form stays the same. Your back should still maintain its alignment.
As you have leaned forward, you will notice that your arms are extended in the process.
Pull the V-bar towards you until you reach a 90-degree angle formation of your body. It must look like you are forming an "L" form with your torso and legs. Keep pulling until you reach the torso area.
Once you reach your torso, gradually let go of the V-Bar but don't break your form. Avoid moving your torso back and forth during the exercise to avoid injuries.
Breathe out when you pull, breathe in when you let go.
Targets:
Mid-Back and Lower Back workout
#3. Bent-Over Rows
Place a barbell bar in front of you and load weights into it.
Picking up the barbell bar is very crucial in this exercise and it requires you to be precise on your movement to avoid injuries.
When you reach for the Barbell bar, bend first your knees while maintaining the straight posture of your back. Lean your torso a little bit forward.
Keep your head up during the whole exercise. I would suggest doing this in front of a mirror so you can monitor your form.
When you lift the barbell bar, lift with your knees still bent until the bar is just in front of your thighs or waist. Keep your arms hanging in front of you. This is your starting position.
Now pull the barbell towards your torso while keeping your elbows close to your body. Squeeze the back muscles when the barbell reaches near your torso area.
Slowly return the Barbell to the staring position and repeat the process.
Targets:
Lower to Mid Back Workout
#4. Pull-ups
This is one of the most known yet hardest back workouts in the gym. It requires great strength since you will be carrying your body weight on this workout.
Stand under the pull-up bar. When you raise your arms to full extent, make sure that you can reach the pull-up bars for both hands. If the bar on your gym is too high, get a platform to stand on so you can adjust your reach before doing the exercise.
Hold the pull up bar on the end wherein your elbow forms a 90-degree angle within your arms. Some would call this the "Wide" hold position. Hang your arms on the pull-up bar. This will be the starting position.
Your main goal in this exercise is to pull yourself up to the limit you can. This will improve once you get used to the exercise.
Inhale first before your first pull and exhale gradually as you pull yourself up on the bar and pause for a second or two at the peak of your pull.
As you let go of the pull remember to inhale. Make sure you squeeze your chest and back muscle during the movement and that you do not make any movements with your legs or torso to gain momentum.
Repeat exercise after a couple of seconds pause.
Targets:
Upper to Mid Back workout
Shoulder Workout
Biceps and Triceps workout
#5. Kneeling Dumbbell One-Arm Row
Get one of the Flat benches on your gym and one Dumbbell.
On a flat bench, place one arm and leg in kneeling position. Your form will appear as one half of your body is on the bench and the other half is stepping on the ground.
Hold a dumbbell on the side in which your body is stepping on the ground. This will be your starting position.
Your arm should be hanging at the side from that start then raise it vertically while not breaking the bent elbow.
Squeeze your back muscles while raising the dumbbells upward towards you.
Pause for a couple of seconds at the peak of your raise.
Then gradually lower it down back to the starting position
Targets:
Mid Back Workout
Triceps Workout
Conclusion
This concludes my tutorial for middle back exercises. I hope you were able to spot the benefits of doing this exercise. Even though this body part is the hardest to target, it is also one of the most crucial parts for bodybuilders because it supports the whole body with any movement or exercise. As this is the hardest one to target, i would suggest using supplements like creatine, so you can maximize your workout. So be sure to include middle back exercises on your routines so you can cover every part of your body.
I hope you have enjoyed my tutorial and please feel free to post your comments or inquiries below. Thanks for reading and happy gymming!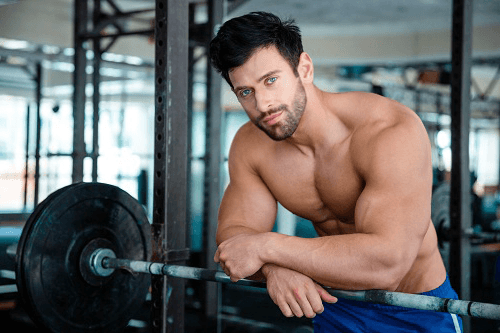 Hi there,
I'm Gregory Brown, chief editor at ConstructMuscles.com
I spend half of my time in this blog while the other half on being physical fitness trainer. Believing in the great benefits of bodybuilding and fitness to the body, I've been motivated to become a fitness enthusiast. It also was what gave me the self-confidence and assurance within myself both physically and psychologically.