It's no secret that people nowadays are very adamant about weight loss. If you want to drop a few pesky extra pounds, the Internet is ripe with resources for it. You have plenty of innovative diets to choose from, as well as exercise routine specifically targeted towards any fitness goal that you might have in mind.
More...
But what about gaining weight? Not everyone wants to slim down. In fact, there are a lot of underweight adults, skinny teenagers or professional bodybuilders out there who are looking to gain weight safely. And according to an article published on HomeRemedyShop.com, pursuing this at home is completely achievable as long as you have the right approach.
How to Gain Healthy Weight?
There is common misconception according to which the only way to gain weight is by binging on unhealthy foods. While this will indeed add some adipose tissue to your count, it will also ruin your health. The secret is to consume meals that make enhancing your mass sustainable and organic. Thus, you should steer clear of French fries, donuts or soda.
Nevertheless, you don't need to hurry and consult a nutritionist to ensure that progress is pursued correctly. With the right amount of knowledge on the situation, you can make informed decisions each step of the way. Here are three essential tips that will help you gain healthy weight right in the comfort of your own home.
#1. Eat More than You Burn
The first step in building some brawn suggested by Healthline is eating more calories than you usually burn. To determine the value of the latter, you can use a simple calorie calculator tool that is widely available online. After you've established your body's desired average, it's time to add to it and ensure that you consume that very amount.
If you want the gains to be slow and steady, adding between 300 and 500 calories to your typical count will do the trick. This approach is recommended if you want to shape and define your body on the way to normal weight. Remember to be careful with how you dose your growth. You don't want all that fatty tissue going to the wrong places.
Nevertheless, professional athletes will need to speed up the entire process. In order to put on some extra pounds fast and turn them into sheer muscle afterward, upping your daily intake by as much as 1,000 is the way to go. If you feel like that's a bit much, you should go for at least 700 and raise the number over time.
In addition, you should also keep in mind that online tools are good for providing you with a rough estimate. The rest is up to you, and it's a true trial and error procedure. Thus, if you notice that your initial approach isn't delivering the desired results, you need to tailor and tweak it to perfection until the expected goals are met.
#2. Focus on the Right Foods
Eating foods that are loaded with carbs and fats, as well as rich in nutrients, is another basic step in gaining healthy weight at home. Energy-dense dishes and snacks are part and parcel of this. Nuts are an amazing source of all the aforementioned necessities, so stock up right now on almonds, cashews, macadamia, walnuts and whatever else you might prefer.
Dried fruits such as dates, figs, prunes or raisins are also an excellent addition to your dietary plan, as are healthy oils such as olive or avocado. Fatty cuts of meat like veal or pork are not to be avoided as they would during a weight loss diet. In fact, they are recommended for the opposite purposes. But you mustn't forget about lean protein such as fish or chicken either.
Finally, whole grains and tubers are a great way to fill up on complex carbohydrates and remain energetic throughout the day. Oats and brown rice, as well as yams and potatoes, should become staples in your dishes for the duration of your mass gain campaign. But because they are filling, it's also important to make them enticing so that you consume as much as possible.
Thus, add a fun twist to your cooking by using a variety of sauces, spices, and condiments. This will give a unique flavor to every meal, which will make it easier to ingest in large quantities. After all, feeling satiated isn't the only thing that matters. You must also aim to make the entire experience as pleasant as possible.
3. Protein Is Your Best Friend
Last, but certainly not least, you need to remember that protein is the central nutrient that promotes healthy weight gain and muscle building. Therefore, you need to up your intake so that your mass enhances in the shortest time possible. fortunately, this is simple enough. It can be easily integrated into smoothies via supplements or consumed as part of a full meal.
The ideal amount would be of 0.7 grams of protein per pound of bodyweight, or 1.5 grams per kilo if you use the metric system. If you've set the bar pretty high for yourself, then you can go for as much as 1 gram per pound or 2.2 per kilo. This should all be tailored according to your specific needs and objective, so pay attention to what your muscles are telling you.
The Bottom Line
It is completely possible to gain healthy weight at home regardless of what your goals are. If you're an underweight teen or adult, then you can choose the slow and steady approach. And if you're a professional athlete, you might be able to withstand a bit more. The essential thing to remember is that listening to your body and its responses will get you far.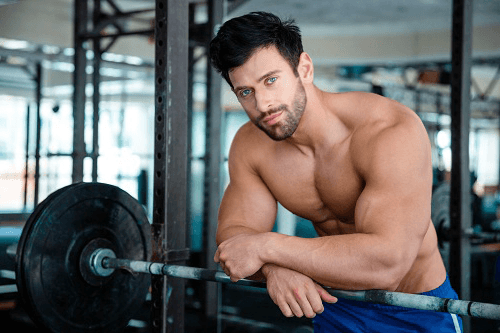 Hi there,
I'm Gregory Brown, chief editor at ConstructMuscles.com
I spend half of my time in this blog while the other half on being physical fitness trainer. Believing in the great benefits of bodybuilding and fitness to the body, I've been motivated to become a fitness enthusiast. It also was what gave me the self-confidence and assurance within myself both physically and psychologically.