Are you one of the conscious bodybuilders? As a bodybuilder, you double think before you get the food you crave for. When doing a morning workout, is it important to eat breakfast first before proceeding to gym? Indeed, you should eat before a morning workout. You need tons of energy to make your body respond to the training that you are planning to work on. Where do you think will your body get that energy if you won't eat? Below is the list of what to eat before a morning workout!
More...
Breakfast is the most important meal for Bodybuilders ?
We all believe (or should I say that we must all believe) in the premise that breakfast is the most important meal of the day. Indeed, that is the reason why it is important to go to your breakfast table before you put your pedometer and training shoes on. Eat the right and enough food will help you with your bodybuilding activities.
Why do you need to eat before your morning workout?
If breakfast is the most important meal of the day, then you should get enough nutrients that will keep your body going from the start until the end of the day. For instance, you have to understand that for your body to be able to adjust to the intensity of your workout, you need to have tons of energy. The only source of that energy (of course except for the stored energy in your body) is FOOD.
How much and when should you eat?
Ideally, people who do bodybuilding activities eat their breakfast at least 30 to 45 minutes before their morning workout. Depending on your weight and body mass index, it is recommended that you ask their bodybuilding trainers on the required calorie intake before you go to the gym early in the morning. Just make sure that you will be having a healthy, well-balanced fiber-rich meal on your breakfast table. Don't worry, that won't ruin your belly, buddy!
What should I eat before my morning workout?
Eating before your morning workout can give you enough energy for your exercise, and for your plans after gym. To avoid being bloated, you should be mindful of what you eat and how much you should eat. Below are seven amazing foods that you can eat before your morning workout and the right amount of each that you should take in.
Ready, set, eat and workout!
1. Oats and banana
Do you want to be fast? Here are some bananas for you! Bananas are carbohydrates that are actually fast-working. Do you know what it means? After eating bananas, you can instantly have carbohydrates which will convert to energy that you can use for your workout!
Want to make it superb? Pair your bananas with your favorite oats! Oats contain bunch of fibers that will help the carbohydrates (brought by bananas) move through your body systems. Therefore, bananas and oats make a good pair of energy provider.
2. Protein bars
Proteins are food for your muscles. You need proteins to help your body adjust to the muscle changes that you prefer. Grab some multi-layer baked protein bar in store now if you do not have enough time to prepare for your breakfast! Protein bars alone can give you abundant protein with low active carbohydrate content which won't make you feel heavily bloated as you go to your gym!
3. Egg whites
People usually tag eggs as unhealthy because of its cholesterol or fat content but in reality, eggs do actually make a good breakfast for bodybuilders who go do their morning workout routine. Eggs are enriched with protein and carbohydrates which can sustain muscle growth.
However, it is suggested to cook only the whites of the egg for easier digestion.Egg whites actually give you freedom in choosing what to eat! You can pair it with your oats or fruits, or even to toasted wheat bread to make it more enjoyable! Be mindful of being bloated though; cook eggs 30 to 45 minutes before your workout schedule.
4. Dried Fruits
Like protein bars, dried fruits can be your 'working-breakfast-partner' so you won't have to go to the gym hungry. Dried fruits are light snacks which is best for those who have slow metabolism. Also, it has carbs that can contribute to the energy of your body, making it able to attend to the energy needed for your bodybuilding activities.
Best dried fruits for bodybuilders? Dried berries, apricots and pineapples are in store for you!
5. Yogurt Parfait or Fruits & Yogurts
More and more proteins to make your muscles feel that they mean so much to you. Yogurts contain high protein that can help your muscles against fatigue during your morning workout. Some yogurts do not have sugar which makes it a real healthy snack. With protein and energy booster, you are now ready to jumpstart your morning grind!
6. Fruit Smoothies
Another source of protein for your hungry muscles? Yay for some fruit smoothies! Depending on the fruit that you will blend with ice, fruit smoothies are best source of protein. If you have issues with your digestive system, fruit smoothies are the best pre-workout breakfast that is definitely meant for you.
The is no hassle in making fruit smoothies though. Get some ice and fruits and this technology will make your dream breakfast happen!
7. Brown Rice
Egg whites for proteins, brown rice for carbohydrates! Rice is the best source of carbs but we should be minded that we are going to have our morning workout an hour after our appointment in the breakfast table. Eating a cup of rice and more can make your body feel heavy which implies that you cannot workout in the gym properly. It is suggested to get a half cup of brown rice to maintain the balance. Unlike other types of rice, brown rice isn't hard to digest.
And here! Check out this amazing instant brown rice for those who have not much time preppin' for their breakfast! Instant brown rice will definitely give you instant energy for your morning grind!
So, what to do before a morning workout?
Before working out in the morning, be reminded of the following:
Get breakfast 30 to 45 minutes before you start with your workout.
Be careful not to take in slow-digestive food (those which are high in fat) because that can affect your agility.
Not eating before a morning workout is unhealthy.
You need food to be able to carry out your daily workout schedules. You should eat the right food 30 to 45 minutes before workout to have a successful bodybuilding. Like this blog? Share it with your friends and gym colleagues! Thoughts? Post your comments below!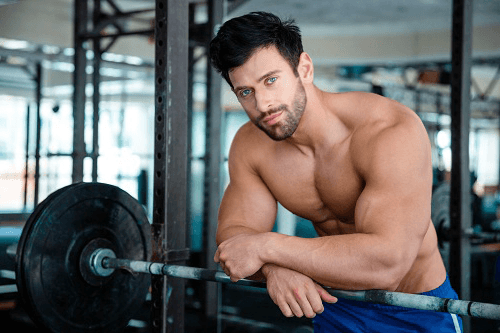 Hi there,
I'm Gregory Brown, chief editor at ConstructMuscles.com
I spend half of my time in this blog while the other half on being physical fitness trainer. Believing in the great benefits of bodybuilding and fitness to the body, I've been motivated to become a fitness enthusiast. It also was what gave me the self-confidence and assurance within myself both physically and psychologically.