We all love milk since we were kids. We pair it with cereals during breakfast and use it with desserts to satisfy our sweet tooth. But we slowly are growing up, consciously trying to have a better body built. Are we going to say bye to milk? Indeed, it is time to question ourselves: Is milk good for bodybuilding? Check these facts that will definitely wreck all the hoaxes you hold on to almost forever!
More...
Do bodybuilders need milk?Definitely, all bodybuilders must have enough supplies of milk in their kitchens because milk does a muscle well. As bodybuilders, we are all living to have better muscles. So, if you are asking whether you should drink milk or not, here's a video of Vince del Monte explaining why milk is an important part of bodybuilder's diet.
Beyond the label: Nutrient Contents
More than calcium, milk can give us more nutrients than we could ever imagine! Before grabbing a carton of milk from a grocery fridge, why don't you check out first what's on the label? Definitely, a lot of milk products would have similar contents. So, let's check these nutrients that we can obtain from drinking milk that is not usually mentioned on the label!
1. Calcium
This one could be already given since all grade-schoolers know that they should drink milk or eat cheese in order to have stronger bones. While it is known that milk is a rich source of calcium, we should always remember that as we grow old, we have higher tendencies of getting weaker bones so we need milk more than kids do! Working for a better body built? Feed your bones with enough calcium!
2. Lactoferrin
Lactoferrin is the small peptide that is present in a milk protein. Even though it does not come in a large amount, every small composition of milk is important to maximize the health benefits that milk products can offer. This peptide bond can give us immunity from diseases and other symptoms. Milk can, therefore, save us from missing a day at the gym due to feeling unwell!
3. Vitamin D
Did you know that milk contains Vitamin D that initializes steroid hormone? Yes, there is now a new source of Vitamin D other than sunlight. If there is not enough sunlight at the backyards, you can just open the fridge for a new source of Vitamin D!
4. Protein
Aside from fish and meat, if you are getting a vegetarian diet, you can actually have milk as a source of protein. If you get a liter of milk, you can get around 32 grams of protein which your body can use to feed your muscles!
Which milk to use in bodybuilding?
Now that we have fully established the importance of milk in bodybuilding, it is now time to check on the types of milk, and identify which of these types are best for our body. Remember, we are not kids who are into getting fat—we just need enough milk to get the necessary nutrients we need for our daily bodybuilding routines!
#1 Semi-skimmed milk
Many tend to use the semi-skimmed milk because it is the most affordable and most convenient type of milk to purchase. Also, semi-skimmed milk can be used in all different culinary tricks like in making shakes and mixing it with meals, so it is kind of the easiest milk to experiment with. If you are on a diet, grab some skimmed milk for it can give you around 600 calories per liter!
#2 Human Breastmilk
But you can't have all the best gains out of convenience, so others are taking the milk in a more serious manner. Even aged bodybuilders nowadays are looking for sources of breastmilk because this type of milk gives the best gains! Indeed, breastmilk is more nutrient-dense that the rest of the boxes of milk sold in the stores, and it is more pure and generic that the commercial milk. Definitely, to a lot of bodybuilders, human breastmilk is the best deal!
#3 Milk alternatives
Yet, not all bodybuilders are lactose tolerant, so we need to provide them alternatives to having the same benefits offered by liters of milk. To make it simple, the best alternative is the drink made out of soy. Did you know that soy gives around 8 grams of protein for a cup? That is enough to suffice the protein contents of a cup of milk.
Other alternatives than soy are almond milk, coconut milk, hemp milk, oat milk and rice milk which are obtainable in stores around you. Indeed, milk is a power food that is very convenient to get!
The Muscle Milk
Making it more convenient for bodybuilders, there is now the product named Muscle Milk, comes in different flavors and special features to give you the nutrients you need and deserve in one bottle! Out in the market are Muscle Milk Genuine Protein Shake, Muscle Milk Pro Series Protein Shake, Muscle Milk 100-Calorie Protein Shake and Muscle Milk Organic Protein Shake! Check out recipes and testimonials of avid bodybuilders here.
In case you want to make your own muscle milk, muscle milk powders are also made accessible for you! You can order online at Amazon this Muscle Milk powder that is lactose-free, therefore good even for lactose-intolerant bodybuilders! Milk indeed is heaven for all types of bodybuilders around the world, so grab some now! Click here to order
Conclusion
If you are serious about your diet, add milk on it to have better results through your bodybuilding journey! Make it more enjoyable through applying and experimenting on some culinary tricks like doing protein shakes, meal replacement shakes and post-workout shakes with either skimmed or breastmilk!
Add milk to your diet can give you nutrients more than those written on the label. Milk can also provide us enough calories to be able to keep up with high-intensity workouts. Thus a good source of water, protein, and carbohydrates drink milk before you sleep because milk can also help us relax our body to avoid fatigue!
Help us improve this blog through sharing your comments below!
References: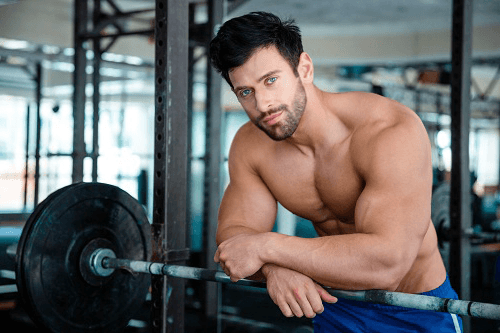 Hi there,
I'm Gregory Brown, chief editor at ConstructMuscles.com
I spend half of my time in this blog while the other half on being physical fitness trainer. Believing in the great benefits of bodybuilding and fitness to the body, I've been motivated to become a fitness enthusiast. It also was what gave me the self-confidence and assurance within myself both physically and psychologically.