Knowing how to properly pull off a vegetarian bodybuilding diet is important because we must be sure that all the food we eat will significantly contribute to the nutrients needed by our body. As bodybuilders, every calorie counts so it is better to have enough knowledge on how we can make every single meal relevant to our needs for our daily workout grind. While we all have a choice to eat vegetables of not, here are keys to successful vegetarian bodybuilding diet that will make you really pudgy but healthy!
More...
The essential nutrients for bodybuilding diet
There are a lot of essential nutrients to keep our body going but as bodybuilders, there are only three most important nutrients that have to be considered in our diets—fats, carbohydrates, and proteins
#1 - FATS
Why do we need fats while other people wants to lose and shook off their fats out? There are two types of fats—the healthy fats and those insoluble fats. In choosing the best diet, we need to have a good balance of fats, carbohydrates, and proteins.
Dietary fats play an essential part in a bodybuilder's diet. We all want a perfect stool so we need to have balanced amounts of dietary fats. While fat is caloric, it is more observed as a concentrated source of energy compared to carbohydrates and proteins. So, if we want to be able to do more intense workouts, we need more source of energy. As we can see, fats, aside from being calorie-dense macronutrient, it can also be our bank of energy.
You can check out this video to see other benefits of fats:

#2 - PROTEINS
We no longer ask why protein is important for us bodybuilders, but we ask how much protein do we need? There are a lot of food that can be the source of protein like eggs and meat. But, considering a vegetarian diet, what are the foods that can be considered good sources of protein if we have to disregard the presence of meat? The list below will surely help us out.

#3 - CARBOHYDRATES
As we go to the gym, we want to be able to work with all of the machines in front of us in order to have a fully built body. We tend to have many intense workout routines to make our body healthier and better each day.
But, have we every asked ourselves, how will we be able to finish all these workout routines if we do not have enough energy? Well, carbohydrates are here to make our routines done! Carbohydrates are a good source of energy that will be consumed by our body to meet our gym demands. If we do not have enough carbohydrates in our body, that would definitely make us a bit unhealthy or sick.
Guide towards a successful vegetarian bodybuilding diet
1. Know the essential nutrient for muscle building
We need to know what our body needs before we decide on which type of diet are we going to adapt. In the earlier paragraphs, I introduced to you the top three macronutrients that a bodybuilder needs in order to survive and to have a completely healthy life. Fats, proteins, and carbohydrates are the triplets in the room of nutrition for bodybuilders. The succeeding paragraphs will help us choose the best meals that will keep us going!
2. Get sufficient calories
We still have a lot of food to eat—not because we are bodybuilders, we are not allowed to have a lot of choices on our dining tables. We can have anything as long as we are not still exceeding the amount of calorie that we should take in every day.
In order to have sufficient calories, the following keys can be considered:
Eat small, frequent meals—that will avoid us from being bloated.
Eat and measure your protein intake to avoid being excessively bulky.
Know that carbohydrate are essential for muscle growth and for energy supply.
Eat caloric foods but make sure that you can digest it all properly
3. Best Vegetarian Food for Bodybuilders
After introducing the top three macronutrients that are essential to the body of bodybuilders like us, it is now the time to know where to get enough supplies of those nutrients. Let us start with the fat-rich food, followed by the protein-rich food, then the carbohydrates dense food.
A. Fat-rich Food
#1 - Avocado – 81% calories from fat
Some know avocado as a good source of protein but more than that, 81% calories of a single serve avocado actually come from fat. Avocado contains monounsaturated fat which further convinces us that eating this fruit will make us fat.
#2 - Pickled Herring – 61% calories from fat
We can be very conscious of eating in luxurious restaurants since we are very much focused on getting bulky and healthy but this Scandinavian dish is a must try even for vegetarians! This European delicacy is composed of 61% calories that may count as fat, or in the long run, the energy that can be utilized in our gym routines!
#3 - Roquefort – 79% calories from fat
For its price and taste, this is really a guilty pleasure. Roquefort cheese is imported from France, and it usually comes from sheep's milk. Taking a single serving of Roquefort cheese can give us around 79% calories from fat. French people believe that this Roquefort, due to its amazing benefits can prolong a person's life! Indeed, a guilty pleasure but worth it!
B. Protein-rich Food
#1 - Quinoa
If you already are tired of rice and oatmeal, you can try quinoa as a substitute for those two! Quinoa is known for its high protein content and the nine other amino acids that it can offer. A cup of quinoa can give us 8 grams of proteins which are really helpful in feeding our muscles!
Now, if you do not have that skills in the kitchen to make some quinoa snacks, here are protein supplements that are already out in the market! You can grab now if you want to have endless proteins for a really cheap amount.
#2 - Chia
With is overwhelming nutrient content, Chia is considered as the super seed! Indeed, Chia is a small but terrible food that can be used as an accessory is some of your culinary tricks.
In just two tablespoons of chia, there are around 4 grams of protein and 117 calories. It also contains all eight amino acids to boost our human capacity! Try the most basic chia recipes here.
#3 - Seitan
Merging high protein diet and vegetarian bodybuilding are really possible with seitan! This wheat gluten is really a good substitute for meat.
For every 100 grams or one single serving of seitan, we can obtain 75 grams of protein. Start learning how to make a perfect seitan now! Visit this link here.
#4 - Hummus and Pita
A perfect snack for vegetarian bodybuilders: hummus and pita! You will never look like you are on a vegetarian diet if you will get some hummus and pita to the nearest food store now. Deliciously healthy with a bunch of grams of protein for hungry muscles!
#5 - Tofu
Tofu or not tofu? Let us tofu! Tofu is made up of soy, which is a friend of bodybuilders. We need proteins, right? Soy and tofu are the perfect matches for us! Studies have shown that these two are the most reliable protein supplement in all over the world. Try tofu recipes here.
C. Carbohydrate-rich Food
#1- Bagels
Looking for good carbohydrates? Bagels are definitely meant for you! Top notching the best bread for bodybuilders, bagels are found to have good carbs and not just a full bunch of a caloric thing. Mixed grain bagels are perfect for the big bulky man!
#2 - Bran muffins
Tired of plain bread? Try making some cuppy cake out of your oats! Bran muffins are pastries made up of oats, which are known to be a good source of carbohydrates. With bran muffin mixes sold on Amazon, you have no more excuse to eat delicious and healthy pastries!
#3 - Mashed potatoes
With 67 calories and 17 grams of carbohydrates, mashed potatoes are the best substitute for heavy grains! Perfectly mashed potatoes are best to replenish our lost stored energy due to our intense workout routines. To avoid being too bloated, avoid eating mashed potatoes without waiting for your body to digest some of it. To help you mash it properly, you can check out this device on Amazon.
Sample Diet Plans
Can we actually have a bulky and healthy body with just eating veggies? Definitely yes! Here's a story of a bodybuilder who experienced transformation through his vegan diet!
If you still have doubts in your head, let me help you clear that out. The table below will definitely show you that it is possible to be healthy even without thinking of grabbing meats and other processed food. With the help of culinary tricks and fresh farms around our home, vegetarian bodybuilding diet is easy to achieve! Here's a sample meal plan for you!
Day 1

Day 2

Day 3

Day 4

Day 5

Breakfast: Cup of granola
11AM snack: Soy Meat and 1-piece bagel
Pre-afternoon workout: Whole wheat bread, banana
Post-workout: Rice protein
6PM meal: Tofu with spinach and peppers
Meal before bed: Soy shake and peanut butter

Breakfast: 1.5 cups of oatmeal and protein shake
11AM snack: firm tofu with spinach and peppers
2PM snack: 1 cup of spinach
8PM snack: soy protein shake
Meal before bed: soy milk and peanut butter

Breakfast: One orange
11AM snack: Peanut butter, bagel, and banana
Pre-afternoon workout: Soy protein shake and banana
Post workout: Bagel and Rice protein
6PM meal: soy cheeseburger
Meal before bed: Hemp shake and peanut butter

Breakfast: A cup of cooked quinoa
11AM snack: ¼ avocado2PM snack: 1 protein bar
8PM snack: hemp protein shake
Meal before bed: almond butter spread on celery sticks

Breakfast: 2 cups of soy milk
11AM snack: Soy cheese and whole wheat bread
Pre-afternoon workout: Protein bar and banana
Post workout: Small apple and organic soda
6PM meal: Spinach salad with cooked lentils, veggies, and spices
Meal before bed: Protein bar and peanut butter
You can also check on other recipes and other culinary tricks just by surfing the internet. You can go back to our list and check for some recipes where we can use some of those! Definitely, in whatever form, those in the list are worthy to be part of our vegan diet!
Conclusion
There are a lot of amazing diet plans out there to try, but do not forget about the greatness of eating veggies. To wrap it all up, in order to have a successful vegetarian bodybuilding diet, we must do the following:
Get sufficient calories – Do no deprive yourself. We need to eat to have energy.
Consume plenty of fruits and vegetables knowing that these are a good source of macronutrients.
Avoid processed foods – those are full of unhealthy and insoluble fats that could make use ugly bulky!
Use iron supplements to have sufficient supply of food for our loving muscles.
Make short but intense workouts to have good metabolic procedures.
Consider going lactovegetarian to have enough calcium and macronutrients supply every day.
Eat more frequently to avoid being hungry and to have enough energy for the day!
Monitor body fat levels to avoid ugly bulks in our tummy.
Stay Positive and never let others get you down! You can only motivate yourself.
It is definitely true that vegetarian bodybuilding diet is a possible thing. You just need to motivate yourself that you can survive without meat, and you also need to equip yourself with good skills and knowledge to keep you going. Did you learn something today? Invite more of your colleagues to switch on a healthier vegetarian diet! Help us improve this blog through sharing your comments below!
Refercenes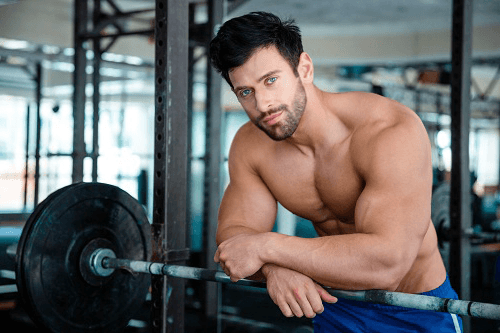 Hi there,
I'm Gregory Brown, chief editor at ConstructMuscles.com
I spend half of my time in this blog while the other half on being physical fitness trainer. Believing in the great benefits of bodybuilding and fitness to the body, I've been motivated to become a fitness enthusiast. It also was what gave me the self-confidence and assurance within myself both physically and psychologically.