Squatting is one of the most known and done exercise in the world when it comes to having bigger, bolder, and close to perfection physique. Because people do not have to go to the gym to do such, squatting has been the most feasible exercise for people who cannot afford gym dues, and to those who have a beefed up schedule.
Known to be the king of all the exercises, squatting has always been paired up with lifting weights as part of increasing its intensity. Now, this article will teach you how to properly do squats without weights, and why people should detach the idea of squats and weights.
More...
Why Perform Squats Over Other Exercises?
There are a lot of things that we can get in doing squats, with or without the use of weights. In our previous article entitled Squat for Women: Lift Heavy For A Health Body, we have mentioned the most basic benefits we could get from performing squats. Included are the following:
Improved blood circulation
Improved digestion
Make your muscles bigger and bolder
A more shaped butt
Helps lessen and iburn unwanted fats
For improved flexibility, mobility, and balance.
The most highlighted benefit of doing squats is its ability to burn fats and calories. If you are wondering how many calories can be burnt by just performing squats, you may start computing by knowing your weight (in kilos) and following this formula:
21 x weight (in kilos) / 200 = calories burned by doing squats.
There are a lot of types of squats where you can choose from chair squats, barbell siff squats, and assisted squats, but here, we will only discuss the two generics: squats with weights, and squats without weights.
While people got used to doing squats with barbells and weights, it is now the time to know whether or not it is possible to do it solely with just your body. To know if it is possible, check the next subsection.
Squats Without Weights Possible?
The past stories about squats and weights will challenge the readers of this article to make it unbelievable that squats without weights are possible. People who do squats are looking forward to the having bigger, bolder, and improved hips, glutes, quads, and hamstrings. Now, to have a more intense squat and lunges, people are trying to pair it up with weights.
But your weight is actually enough to make squats and lunges effective. You can achieve the improvements and enhancements that you are looking forward to even without the use of weights.
To help you start learning how to do squats without weights, here's a short video tutorial, followed by one by one step on how to properly do it.
How To Do Squats Without Weights?
Position your feet wider than the length of your shoulder.
Lean your shoulders backward, placing it at least half to one inch away from your ears.
Stretch your arms forward with palms faced down.
Slightly bend your knees backward while keeping your legs in place. With your butt sticking out, ensure your chest in position, and shoulders still beyond your ears.
Using your butt, try to reach the ground as low as possible with the rest of the position still at the place. Repeat as many times as you can.
Pro-Tips on doing Squats Without Weights!!!
#1 - Perform The Basic Warm Up Exercises Before Doing Squats: Usually, people use lunges and squats as warm up exercises, but since these will be your actual activity, then you have to perform other routines. You may either start with some cycles on a jumping rope or just jog in place to make sure that both your upper and lower muscles are ready to do the squatting
#2 - Be in a very comfortable exercise outfit, and make sure that your clothes (leggings, specifically) are flexible enough: There are a lot of comfortable exercise outfit to choose from when you go to department stores. You may choose the best outfit by feeling each of it to see which one is the most comfortable for your body. While your preference is the basis, make sure that your outfit is flexible enough especially if you are bound to do squats.
#3 - Put moderation and pattern on a number of squats you will perform to avoid fatigue and other injuries while working out: It is never encouraged to overtrain because there are a lot of bad consequences that can be felt after. While we are trying to have a safe and flawless exercise routine, it is best to put some moderation in the number of squats and lunges you perform on a daily basis. If you would want to engage yourself in a more intense session, increase the number of squats and lunges after three days from the start to make sure that your body can make the necessary follow throughs.
#4 - Cool down and recover to avoid exhaustion: Rest, recovery, and sleep are the three basic things that you should do after an intense workout. Also, drink enough water because it can also aid up in the cooling down. Avoid putting your sweaty body in front of an air-conditioning unit to avoid any pulmonary reactions that may occur. It is best to just sit, rehydrate, and sleep after some hours of rest to have your body recovery from the intensity you performed.
Conclusion
Squats without weights are possible because you just need to use your weights to improve your hips, glutes, quads, and hamstrings. It is up to you on how intense you would want your squatting to be, but be mindful of the simple tips mentioned above to avoid injuries.
Did you find this article helpful? If you have ideas on how to improve this one by one step, feel free to share your comments below.
References: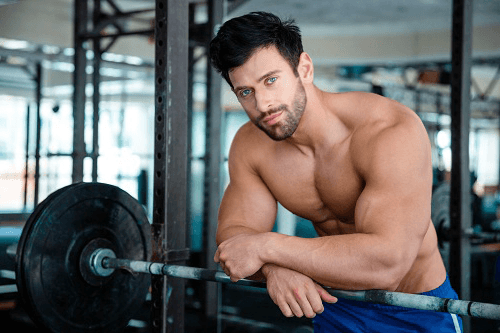 Hi there,
I'm Gregory Brown, chief editor at ConstructMuscles.com
I spend half of my time in this blog while the other half on being physical fitness trainer. Believing in the great benefits of bodybuilding and fitness to the body, I've been motivated to become a fitness enthusiast. It also was what gave me the self-confidence and assurance within myself both physically and psychologically.