We engage ourselves with all possible ways towards having a really outstanding physique, but we may not know be so aware of the root of all our hard work in gyms and in our workout spaces. Definitely, knowing what is aesthetic bodybuilding will blow our minds because we have never been fully knowledgeable on how to maximize the aesthetics in bodybuilding!
The next paragraphs will make us discover all the beauty that bodybuilding has to give so brace ourselves out!
More...
What is aesthetic bodybuilding?
Aesthetic bodybuilding is a sum of two words: 'aesthetic' and 'bodybuilding'. To be able to define what is aesthetic bodybuilding, we first discuss the basic definitions of the term aesthetic and bodybuilding.
Aesthetics – appreciation of beauty or good taste; related to increasing the positive appeal or the attractiveness; artistically beautiful and perfect.
Basically, aesthetics is the beauty we see in a matter and it depends on the perspectives of the person to define the beauty and even to quantify it. Therefore, I cannot say that this is the perfect shape because other people may not agree with it. Big muscles might be very sexy to one person, but disgusting to another. Therefore, aesthetics is subjective to the person's point of view.
Bodybuilding – set of activities which are done in favor of achieving a better physique and healthy life. It can be done in fitness gyms or in workout areas; requires exploration of different routines that are fit for your current body status.
With all that said, we can now come up with our own definition of what is aesthetic bodybuilding:
Aesthetic bodybuilding – act of working out towards achieving and building a perfect, attractive, and very appealing muscular body. Aesthetic bodybuilding is also known as strategic bodybuilding as you are working towards having healthy and well-shaped muscular physique.
Trying to put up an image of a product of aesthetic bodybuilding, here is one of the sets of descriptions associated with a perfect body. Usually, aesthetic bodybuilding is pictured as having the following features:
Square and angular chest
Wide ripped shoulders
Arm width is equal to the shoulder width
Tapered waist for that perfect V form in the upper body
Traps are not extremely big
Well-defined six-pack abs
Having a V-cuto Ripped calves
As said in the earlier paragraphs, the appreciation of the beauty of the body depends on the eyes of the person who judges, so it is fine if one of your friends does not agree with your good shape. Henceforth, continue working out towards the perfection of your body to attract more eyes on you. Motivate yourself through this video:
Now, the next phase are the things that you may actually consider and explore as you start your journal towards aesthetic bodybuilding.
How to achieve aesthetics in bodybuilding?
You can say that you have switched from a normal bodybuilding to aesthetic bodybuilding easily, but be mindful because your body might not be able to follow through. Like quitting smoking, you cannot get a really great physique just by working out overnight. There are steps to make your body more attractive than it is now; here are some to get you started.
1. Discover a good diet
What you eat makes a really big difference in your body shape so you must choose your diet properly. You can eat fruits that are helpful in muscle building, or you can devise a protein diet which can also provide sufficient nutrients required by your body. The diet depends on our body's situation. You may go to a nutritionist to check on your calorie count, and the diet that you can explore.
2. Make a consistent training routine
Which part of your body do you want to enhance? Which routines will help you achieve your body goals? There are a lot of training routines out there that you can try, but check first if that is the training that your body really needs. You can consult to your gym trainers to know the different routines and exercise that you can do to help you reach the peak of the aesthetics of bodybuilding.
3. Get enough rest, recovery and sleep
Do not let your body experience fatigue. In our recent posts, we have identified the importance of getting enough rest, recovery and sleep. If you fail to give your body a break, you may lead to have an unhealthy body. Getting enough rest, recovery and sleep will freshen up your body and muscles, making them ready for another intense workout on the other day!
To check on more tricks towards amazing physique, you may check out Marc Megan's eight-week aesthetic bodybuilding training here.
Why do I need to shift to aesthetic bodybuilding?
Shifting to aesthetic bodybuilding requires a lot of efforts, right? So we started questioning ourselves towards the end of this blog, "why should I shift to this type of bodybuilding?"To answer your question, here are tips to motivate yourself!
#1 We want what is best for ourselves and for our figures
We workout really hard for what? For better health, and for bolder physique, right? We really want what is best for us as bodybuilders so it is best to maximize the potentials of it. From normal bodybuilding, let us shift to aesthetic bodybuilding to see the ultimate product we can get from hard work!
#2 We'd love to maximize the gains that bodybuilding can offer
Definitely, we need not to see just big muscles. We want our muscles to become the great—in terms of its strength and physique. Both of it can be achieved if we start discovering how to work out for aesthetics and health! To maximize those gains from working out, I would suggest using effective supplements like creatine so you can do more in one routine.
#3 We need to see that our hard work leads to something really beautiful
Output, we need to see the ultimate output. We do not want to put our hard work in trash, right? That is why we'd really love to maximize the benefits that bodybuilding can offer.
There is definitely no way to say no to aesthetic bodybuilding. Motivate yourself through understanding the maximization of benefits.
Love the blog? Share it to your colleagues! If you got comments, put it below!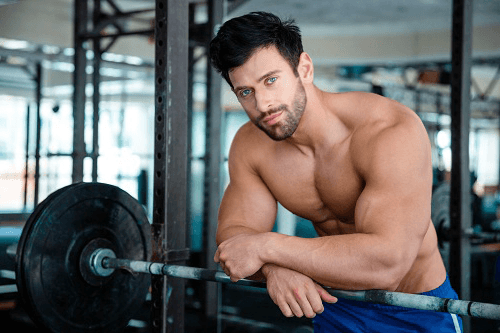 Hi there,
I'm Gregory Brown, chief editor at ConstructMuscles.com
I spend half of my time in this blog while the other half on being physical fitness trainer. Believing in the great benefits of bodybuilding and fitness to the body, I've been motivated to become a fitness enthusiast. It also was what gave me the self-confidence and assurance within myself both physically and psychologically.