Knee injuries are one of the most regretful injuries to occur in someone's athletic career. It disallows you to perform any movement, and it takes quite a long time for the knee to heal. It is important to protect our joints, especially when maxing out in our lifts. In this article, we will showcase our 5 best knee sleeves in the market today, and how you can benefit from it.
More...
** Below, you'll find more detailed reviews, but you can click links above to see current prices and read customer's review on Amazon
What is A Knee Sleeve?
It is a knee support to prevent further injuries or hinder damages in the said area. Often mistaken as a knee brace, sleeves do not hinder any mobility or range of motion which is a sole reason why it is an immediate choice for athletes.
As an efficient compression tool around the knee, it increases blood flow during a movement or a workout, and it ceases any pain or inflammation to the knees. That is why it is advisable to wear one if your workouts include a lot of knee usages such as squats, jumping, sprints, Olympic lifting and other movements that require more pressure on the said area.
Although it has a lacking ligament aid compared to a knee brace, it is a suboptimal choice for those who have weak knees. It is also unrecommended for those who are recovering from a knee surgery.
Proper Usage
When you are trying to progress with your weight load for exercises that requires you to engage your knees, the tendency is, that the ligaments on your knees will start grinding to each other and will cause possible injuries such as ACL and MCL. However, it is not supposed to be worn at most times.
If you are bearing a weight that it is manageable enough to execute with higher reps, then you won't need it just yet. Also, if the knees are not the primary source of force, then it is unnecessary. Don't invest on knee sleeves just yet if you're still unfamiliar with lifting.
How To Choose for the 5 Best Knee Sleeves?
Before you select from our choices, we are going help you decide the appropriate knee sleeve to avoid any mishaps. At times, you will encounter wrong sizes and faulty quality that will require you to ship back the item you purchased. It will waste your time trying to do trial-and-error with the product. Having that said, here are some factors you must consider in buying a knee sleeve:
1. Size
There is a proper method of measuring your knees for a sleeve. To begin with, acquire a measuring tape and gauge from the center of the knee cap down to the upper-mid of the shin. It would roughly be around 7 inches from the point to the other. Then, measure the circumference of the calves and the knees to ensure the optimal compressing purpose of the knee sleeve. After which, you can choose from the brand's charts of the size you wish to buy.
2. Thickness
There are several scaled thicknesses of knee sleeves depending on the level of your activity. If your sport only requires you to lift light weight load then, a 3mm sleeve would be suitable for you. The next measurement is 5mm, and it is recommended for athletes, such as CrossFit athletes, that do different stations of exercises in a short period or under immense time pressure. Lastly, if you're an Olympic lifter or a powerlifter, the 7mm is highly suggested for an athlete like such since it requires you to bear massive weight loads.
3. Comfortability
Ensure that the knee sleeve is comfortably snug around the area. It is supposed to provide warmth and compression to protect the knee. Aside from it, the sleeve should not irritate your knee, although, this is difficult to avoid at times because there might be some chemicals used in the product that is not compatible with your skin, so you have to research the product thoroughly.
The commonly known fabric for sleeves, neoprene, would tend to release an unpleasant fume after being induced with sweat, and it also has the tendency to build up perspiration causing an uncomfortable soggy feel. All of which stated are to guarantee a safe and annoyance-free workout session.
4. Brand Customer Service
As to what I mentioned earlier about the wrong sizes and faulty quality, there still times that it is difficult to avoid this situation. Review the product you wish to purchase if they are reliable when it comes to customer service care and refunds. Make sure it is a hassle-free between you and the company, and the representing contact is approachable.
5. "The Right Fit"
Why did I exclude this with size and thickness? It is still possible to have the right measurements, but is it anatomically fit for you? Obviously, our knees are not structured the same, so it will take a while for you to find the suitable one. People tend to oversee this importance factor about choosing the right item.
Our 5 Best Knee Sleeves
After we have given you the factors that you need to consider when buying, consider our tip and choose wisely amongst these choices. Some of the sleeves might be a little bit too pricey for your budget, but it is a guaranteed product by other users as stated from their own feedback of the specific brand product they purchased. Like any other, there is no such thing as a "perfect" outcome, but only what will work best for you.
Equipped with Bowflex's SpiraFlex for improved resistance
Adjustable to 4 positions including decline
Easy to Assemble
Reasonable Price
Some holes for the screws are misaligned with the cushion
It takes a while for the chemical fume to vanish.
Our Opinion:
Besides all the positive comments I have mentioned, the customer service care is reliable as it is. This kind of sleeve is ideal for athletes who trains for endurance type of regimen. While wearing the product, it offers significant pain relief and aids it from swelling as well.
The thermal effects of the sleeves improve blood circulation to avoid any knee injuries. Be mindful about purchasing this product as you might receive the wrong size, and tend to wear off during your exercise; nonetheless, it is still a reasonable product to purchase.
Competition grade sleeves approved by IPF and IWF
Recommended for recovery and rehabilitation purposes
Accurate sizing guidelines
Preventive from injuries
-Sold solely per sleeve
Too pricey considering that it is not sold by pairs
Inconsistency in some designs and detailing
Our Opinion:
After knowing that this is a competition brand of knee sleeves, we very much understand why it already is expensive as per sleeve. Many of weightlifters use this product and would last them for the longest of their careers. Made from 100% neoprene foam and 100% Polyamide lining, it ensures the comfort and warmth that it provides while working out.
To be guaranteed about the size, some users say that if you have medium-sized quads, buffer one size smaller from your measurement instead of getting the exact size. Although, everyone's critical feedback is that sometimes the product is inconsistent as it can't be bought as a pair. The other sleeve would often be thinner than your previous purchase. Nonetheless, It is still an excellent quality sleeve to invest in for your safety.
Inclusive of other knee supports such as patella support and knee wrap.
Anti-odor product
100% money back guarantee
Reasonable price
It rolls up when moving
Elasticity wears out quickly.
Opinionatedly, poor quality by other users.
Our Opinion:
It comes to our attention that it comes with other types of knee support. It is obviously a smart marketing strategy, so props for the company. If ever that the knee sleeve will not suit you, a knee wrap would also be a good alternative.
Although, numerous complaints about the sleeve not staying in place even while walking. It feels bulky and cumbersome, and it would pinch to your skin according to a review. If all else fails, the knee wrap is your last resort with this item.
Optimal Compression for muscle endurance.
Promotes faster muscular recovery in between workouts.
Ultra-Lightweight for comfort and flexibility.
Promotes Pain relief
Constant adjustment once in a while
Doesn't stay in place.
Our Opinion:
Usually, lightweight products will endure for long, but this product is moving something else. We have read numerous positive reviews about this specific knee sleeves. There were users who were recovering from ACL injury, and it did them a great job for its purpose.
It is still a standard issue to this product about sizing mistakes provided by the company, but that is regular. The biggest, or should I say the worst, critical acclamation about this product is it does not quite compress the knees well. We were very much worried about it, but it is not the same for everyone. Because of their good service, you can return the sleeve in exchange for an appropriate size.
Thermal Stabilizer for increase of muscle performance
Promotes muscle and joint recovery.
Specializes in patella protection
Improves muscle timing imbalances
Rest
It tends to slip just after a few movements
It would bulge up behind the knee
Our Opinion:
In all honesty, there is nothing special about the sleeves, but it isn't a bad product as well. The only complaint about the said product is that it would slip by a few increments from walking, but it has already become a staple comment amongst users.
It still does its part to compress the knee and give warmth and comfort. It is still recommended to the athlete who is recovering from any injury. After all, it is only a compression sleeve, and it wasn't stated that it would be suitable for intense workouts.
Our Best Knee Sleeve Choice
It is indeed an expensive sleeve to purchase, but with its reputation as being a high caliber material that had been approved by lifting federation, I would highly recommend this. If you're going to invest on something that would last you nearly a lifetime, then this is the choice to go with. To be honest, we have seen Cross Fit athletes use this brand. It just simply means that not only it is suitable for heavy lifting, but also for various workout programs.
Advice
Mobilize and Stretch

– Remember to warm up before your exercise. It is to loosen up your joints so that it would help you achieve a full range of motion in workouts. Mobilizing would help you open up and destress place where you are tight.

Nutrition

- Have proper diet and nutrition to ensure that your body is getting what it needs from your crucial workout sessions.

Supplementation

– Aside from your diet, intake some supplements to see optimal results. However, do not replace your food with it because, it is only to "supplement" your macros and other nutrients, and not to replace it.

Rest

– Your body won't grow if you don't allow yourself to recover. You won't see any progress if you frequently allow your body to be engaged in such exhausting workouts.
Conclusion:
We have only forwarded to you, our readers, our 5 best knee sleeves and our highly-appraised choice amongst the others. Remember that it is our opinionated choice, and it still might not suit you. You can review other products of what would be the most suitable for your needs. It also might not be in our choices of what you desire. We just narrowed down to the highly-rated brands and products in the market today. If you found this article useful and helpful to you, by all means, share it with your friends.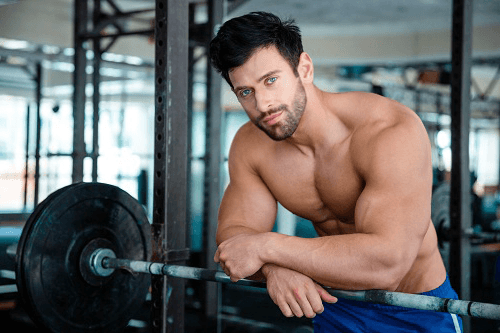 Hi there,
I'm Gregory Brown, chief editor at ConstructMuscles.com
I spend half of my time in this blog while the other half on being physical fitness trainer. Believing in the great benefits of bodybuilding and fitness to the body, I've been motivated to become a fitness enthusiast. It also was what gave me the self-confidence and assurance within myself both physically and psychologically.