It is just about right to get your body chiseled out for that summer-ready physique. There is no secret of getting a shredded body. How you worked out for a massive and built muscle will be the same attitude and principle of how you will get that "photoshopped' looking body. It is almost like an aesthetic bodybuilding mode but in high definition.
More...
Do not be confused by "weight loss" and Shredding. The latter involves total fat burn, while still maintaining your muscle mass. It other words you will keep your lean weight (in pounds or kilograms) while minimizing your body-fat percentage. I will give you simple tips on How To Get Shredded effectively and efficiently.
FREQUENCY
Why is "frequency" the first one on our list?

When you have to design a program or choose one, you have to plan out how many days in a week are you planning to get things done. More importantly, if you're a student or an employee (or both for some cases), will it even allow your hectic schedule to give you ample time to exercise? Whether you can go to the gym before or after school or work, the days of the week will matter.
In any case of training methods, give yourself three to four times a week of training days and the other days as "active" rest days. Be efficient in your workouts and do not "shortcut" any movement or program. You have to give your best effort in every session for maximum results.​
DIET
If you think lifting weights are the hardest part of the process, millions of athletes will agree with me that it is the easiest section of every regimen. If you are planning to shred there are three building blocks that you need consider and allow yourself to recalibrate with each intake.
It is necessary, in this case, to minimize and cycle your carbohydrates. You may consume most of it if you are going for a "heavy weightlifting day" like squats or deadlifts. Other than the mentioned situation, you may cut or decrease your carbs throughout the entire day.
If you ever had a bulking phase and it took you to consume 150 grams of protein daily, then continue to have that amount every day. With that said, you may also add more protein in your diet because, in a caloric deficit, your body could initiate to use protein as your energy source.
As mentioned, we have to cut our carbohydrates; which leads me to the specific macronutrient to substitute as your primary energy source, Fats. Eat fats in moderation as your body eventually absorb available energy, and would, later on, convert it into body fat. Unsaturated fats are the way to go as they would promote testosterone distribution and lower bad cholesterol levels. I highly recommend omega-3 rich foods as your daily fat source intake.
LIFT HEAVY
I am sure you've heard some people say that, if you want to tone up and have a "photoshopped" body, you must go light and many reps. That person could probably right at some areas, but if you go light, you are decreasing the chances of potential muscle growth. If you've read our article about, "How to grow muscle fast?," we mentioned that heavier weights have more potential to rip your muscle fibers for it to grow. Having that said, keep a heavy progression during your training days.
INTENSITY
Concerning heavy lifting, it is necessary to increase the intensity as well to boost your metabolic rate further and burn fast faster ever than before. I highly recommend adding HIIT training after your strength training. It would also increase your lactic acid threshold which simply means you can handle quick movements one after the other.
Did you know that doing negative and pause-reps are another way of increasing your intensity? It is one of the alternatives to do if you don't want to lengthen your workout. For example, during the last rep of the bench press, pause the last two reps at the bottom for two seconds, and instantly explode at the concentric phase. Not only you will add intensity, but you will gain strength along with it as well.
WHOLE BODY MOVEMENTS
What I mean by "whole-body" movements are multi-joint exercises. Normally, these are the basics of your training program. With lifting heavy, multi-joint exercises allow you to carry heavier weight load than isolated executions.
Big movements are not always about heavier weight loads or exercises that involve barbells, benches, or dumbbells. Bodyweight exercises such as burpees, mountain climbers, and hollow rocks require several muscle groups for you to execute that movement. The core will always be activated in such movements thus, further strengthening the stability muscles of it. Having a strong core is essential, and there are various exercises you can do to it.
SUPPLEMENTATION
There are thermodynamic fat-burners for you to help you shred the fat off while retaining muscles. You can still maintain your protein shake for a protein surplus to keep on adding muscle mass.
Stay away from mass-gainers as they contain a lot of calories in one serving. If you want to grow stronger, try adding creatine into the mix.
CARDIO
You can do a 30-minute jog around your area to keep your blood pumping through your muscles and make it grow leaner to eliminate fat. Be careful about cardio, it has already been proven that it can hinder your strength growth, so depending on your goal, attempt to balance it out and focus on what you want to achieve.
You may also opt to do a 15-minute spinning bike session after your training to cool down your entire body properly
REST
It is one of the most overlooked factors in any form of training. As mentioned above, you can have active rest days such a short walk around your area. During your rest days, you are allowing the natural growth hormones in your body to repair damage tissues to be able to replace them with stronger ones. Have one or two rest days in a week in between your training days.
Conclusion
There is no deep secret on How To Get Shredded. You just need to discipline yourself to achieve what you desire for your fitness lifestyle. If you have any other questions, kindly leave your comments below, and I would be glad to help you out
Reference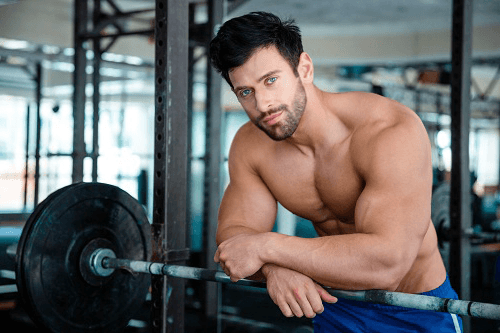 Hi there,
I'm Gregory Brown, chief editor at ConstructMuscles.com
I spend half of my time in this blog while the other half on being physical fitness trainer. Believing in the great benefits of bodybuilding and fitness to the body, I've been motivated to become a fitness enthusiast. It also was what gave me the self-confidence and assurance within myself both physically and psychologically.