If you are planning to build your gym at home, then it is safe to say that you can best start with a squat rack. With it alone, you are already able to do a couple of exercises that you would do in a fitness center, but why buy a squat rack alone when you can have a pull-up bar with it? We are going to present to you the Best Squat Rack with Pull-Up Bar for an overall strength build.
Best Squat Rack With Pull Up Bar
** Below, you'll find more detailed reviews, but you can click links above to see current prices and read customer's review on Amazon
What Is A Squat Rack?
Like any essential equipment squats, the rack is one of those hard and rigid machines that can offer you a lot of varieties of workouts. With the all the advancements and innovations, there is now machines and equipment with intricate designs which people can be creative with. Now with a squat rack, it doesn't mean that squat is the only workout you can do with it. It is just an essential tool, to begin with.
It is composed of hard metal that can withstand approximately 1000lbs depending on the construction of the quality of materials to use it with. It has holes where can set the safety bars to set up the limit just in case you fail to execute in the middle of the workout. Another use of the rack bars is that there are specific workouts that can be used as accessory work that can progress your strength and skill even further. You can practice your techniques with a particular exercise with it as well.
Other would term it as a power cage, but why? There are still other exercises you can do with it. Later on, we are going to tackle what workouts you can do with it.
Benefits
In all honesty, there are a lot of advantages you can get from a squat rack with a pull-up bar. It is the most reliable equipment utilize to promote physical strength, and it is a classic favorite by veterans. Imagine it as a cage where you can grow stronger with the use of simple movements. There are certain key benefits that you attain from it.
1. Safety Protocols
Whether you are training alone or with your partner, it will be safe for you to fail inside a squat rack. It is equipped with safety pins where you can set the height of where you want it to be. It is important especially if you are planning to go heavy on your workouts.
2. Multi-Functional
Since we are talking about attaching a pull-up bar, there is still more that you can do with other than what it is offered or other than basing it in on the name of a piece of equipment.
You do every compound movement such as Deadlifts, Overhead Press, Barbell Row, and even bench press. Just be creative with your workouts and look for.
3. Assisted Pause Reps
It is crucial to do pause reps, and it is one of the methods that you can do to master the strength of your body. It is a capability that you can hold the weight at the bottom. You can even attach resistance bands so that you can add variety and dynamics to your movements no matter what kind of workout it is.
It is a different mechanic from an unassisted type. It takes a little bit of difficulty to achieve a full unassisted pause rep, but until you get strong enough, you can stick to the assisted ones otherwise known as, Lockouts.
4. Partial Movement
Other people would to oversee this and underestimate the partial movement as a supplementary work. It is another great way to train to improve your levels of concentric phases.
Workouts That You Can Do
Aside from the squat and the pull-up with variations, there are other big compound movements that you can do with a squats rack to get your strength gains up. It even is the only workout you need to make you massive.
1. Bench Press
If you have an adjustable bench, then you can execute a bench press within the squat rack. Just the J-Pin on a comfortable height that you can reach from the starting position.
You can even work on an incline bench press or even other pectoral muscle movements that you can think of as long as you have the right equipment.
2. Deadlift
You may do this outside the Squat Rack, or inside of it. You can have the pin set at a reasonable height, and you can load the barbell from there which makes it easier. Don't forget to wear your weightlifting belts for safety.
3. Barbell Rows
If you desire to have a thick and massive back, the rows are a way to go. Set the J-pin the same height as how you would do to the deadlift. Your grip might give up along the way so you may wear some lifting straps if you have some.
4. Overhead Press
Another pushing movement that you can do for the squat rack. If, however, you are too tall, you can set the pins outside of the cage and perform it from there.
Best Squat Rack With Pull-Up Bars
Multi-Grip Pull-up Bar included
Durable Materials
Very durable and reliable
Some of the bolts that come in are incomplete
Our Opinion:
I don't see any problem with this item. I think you can still pretty much do anything with it and everything will be just fine. If some screws or bolts are missing, then I guess you just have to buy one in your local hardware store. Not much of other negative reviews by far.
Composed of 12 and 14 steel gauge thickness.
Reinforced stability and durability.
Easy to Assemble
Can't hold to much weight.
It tends to wiggle around.
Our Opinion:
Well, first of all, it looks simple. If you are planning to do only minimal workouts and only to maintain your strength, then I guess it is the type of rack for you. You can still perform your squats, deadlifts, presses, and bench with. If you are going to do pull-ups, make sure you are going to pin it down with heavier weight.
Can hold up to 700 pounds
Weight holder for increased stability
Heavy duty J-Hooks
Easy to Assemble
Slippery bar for the pull-ups
Our Opinion:
Another great deal that you can get as your squat rack. There is nothing too special about it, but it is indeed reliable for the users. 700 pounds would be enough to sustain your strength, and you can progress from there already. It is one of that equipment that you could consider and your budget is only that will matter when it comes to selecting your tool.
Contains steel tubes for plates.
1000-pound capacity
Very functional
Comes with two sets of J-Hooks
Sometimes the shipment arrives in late
Our Opinion:
Compared to the T-2, the T-3 is more integrated compared to the previous one. If you have some little more bucks to spend, you can choose this over the T-2 easily. I mean you already have two sets J-hooks included which makes the adjustments a whole lot easier. Plus, it has a 1000-pound weight capacity. Why don't you go for a little more extra so that you can feel comfortable about the rig able to hold a lot of weight?
Can hold up to 1000 lbs, ideal for heavy lifting.
Sturdy and built with quality materials.
Easy to assemble.
Other shipments have missing hardware.
Our Opinion:
Considering all things, it is already an industry-level piece of equipment. Although, there is not much space where you can put your weights, so it could still leave a pretty big mess afterward. It doesn't have any bad side to it except that; I wish that it had some plate holders. Other than that, it is an ideal choice as well.
Our Choice
The reason why I picked this because it is complete. It has steel tubes for plates where you can keep things organized. It can withstand 1000-lbs capacity, and it will take a long time for you to get there, or even never. It is very rigid and stable, and the materials are a just top quality that you can already rely on it and build your home gym. Safety is all that there is with this squat rack with pull-bars,
Remember
Please practice safe precautions before you engage in a workout. Wear all the necessary gear if you have to avoid injury. If you are planning to go heavy on squats, wear a weightlifting belt and knee sleeve to tighten up everything. Don't let your ego get over you. Train smarter not harder.
If you need to take some supplements for recovery such as protein shakes, please do so.
Conclusion
Now we have given you the Best Squat Rack with Pull-Up Bar; you can now utilize it to its maximum potential. Build up your strength gains at the comfort of your own home. Have rest days, and remember to take proper nutrition and diet. If you have any other suggestions of brands, leave it in the comment below.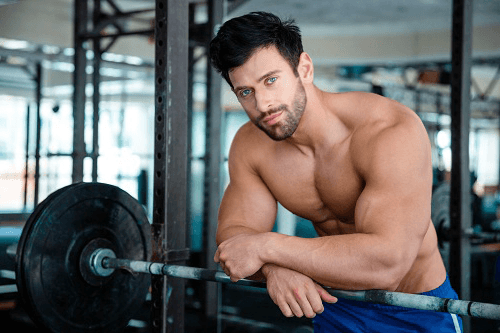 Hi there,
I'm Gregory Brown, chief editor at ConstructMuscles.com
I spend half of my time in this blog while the other half on being physical fitness trainer. Believing in the great benefits of bodybuilding and fitness to the body, I've been motivated to become a fitness enthusiast. It also was what gave me the self-confidence and assurance within myself both physically and psychologically.