Too much of everything is bad for the health. There are some people who are struggling losing weight because of obesity and there are others who need to gain weight. In order for a person to be healthy, it is very important to just have the right body weight that is proportional to your height and this would depend on your age, gender, and your height.
Being underweight has health implications. Some people are underweight brought about by skipping meals, stress, lack of rest and sleep, and too much physical activity. Other causes can also be attributed to certain diseases like diabetes, hormonal imbalances, cancer, anorexia, etc. There are various home remedies for weight gain to avoid these problems.
More...
Home Remedies For Weight Gain
Process of Gaining Weight
Gaining weight as with everything else is not an overnight process. It is a gradual process where you have to gain 1 pound a week by taking more calories. But then again, it will take some time for you to see some big changes in your appearance.
How do you gain a pound?
First, you need to eat or consume more calories a day. By having 200 to 500 calories in a day, you get to increase your weight by about 1/2 to 1 pound per week. Some people have a misconception that by eating unhealthy foods like ice cream, snack mixes, etc. can contribute to weight gain. But unfortunately, they do not. It only results in having bad eating habits that can result in chronic diseases and illnesses that you want to avoid. To be healthy, here are the most effective home remedies to gain weight
#1 - Increase Calorie and Protein Intake
One the most effective remedies to gain weight is for you to have more calories added to your meals. It is strongly recommended that you boost your intake of calories for every homemade meal that you eat. Have bigger portions of meals and if you happen to have small appetite you need to add calories to the food you have.
For instance, if it seems like you are eating a small portion of cereal, you need to increase the serving size and then you can add some nuts or a granola bar. You can also have avocados in salads or big size sandwiches that contain healthy ingredients from vegetables to lean meat.
​Aside from consuming additional calories, you also need to increase your intake of protein. Keep in mind that if you want to gain weight then it also follows that you want to have a healthier muscle mass. In which case, you need to have about .55 grams of protein for every pound of body weight.
​There are various foods that are high in protein like chicken and black beans. There are other sources of protein too like yogurt, cheese and a whole lot more. You may want to add any of these sources of protein in your meal in order to get your target protein intake for the day.
#2 - Eat More and Drink Up
Being underweight is often associated with fewer meals. And if you seriously want to gain weight the right way, you need to eat much more often. It is better to have several meals in smaller servings than having 3 big meals.
For example, you can have foods that contain calories but also has nutritional value like cheese, dried foods, seeds and a whole lot more. Having many small portions of meals gives you the right amount of calorie intake that you need for the day as well as your protein and other nutritional needs.
There are cases wherein some people might find it slightly difficult to eat more so instead you can actually drink it up in order for you to gain weight. Drinking juices and healthy smoothies can actually help you gain weight. You can have these healthy juices in between meals in order for you to gain more calories.
Depending on your preference, you can boost calorie content by adding different ingredients like milk, bananas, yogurt among many others. But just a healthy reminder, you need to avoid drinking lots of beverages. You should also stick with the healthy drinks and avoid drinking beverages that contain too much sugar and alcohol.
#3 - Have regular exercise
Whether you are overweight or underweight, having regular exercise is a must for your health. Some people might think that just because you already have a nice figure there is really no need for you to exercise. But if you really want to achieve your health and fitness goals, you need to allot time for your regular workout. The only difference between people who are overweight and those who are underweight is that people who want to gain weight should have light exercise.
Food as One of the Best Home Remedies for Gain Weight
There are different kinds of foods that are known to aid in gaining weight. And some of the best foods are readily available at home which include the following:
1. Banana
​Banana is one of the most nutritious foods that you can find. It gives you just the right amount of calories that you need in order to boost your energy and to help you in gaining weight. During breakfast, it is strongly recommended that you have at least one or even two ripe bananas. After eating a banana, you can have a glass of milk and some sugar. Do this routine every morning.
2. Almonds
Almonds are considered to be really healthy nuts. They contain high polyunsaturated fats which are a good source of healthy calories that you can include in your daily diet. You can eat the almonds and then add two dates in a glass of milk . Do this every day for about 1 to 2 months.
3. Mango
Mango is a very delicious food but it can actually help you gain weight. You can make your own mango milkshake that gives you nutrition and at the same time can help you achieve your goals. Have a mango milkshake twice a day for about 1 month. After that, you will see the difference. Mango contains different vitamins and minerals that are good for the body.
4. Eggs
Eggs contain different nutritional content like calories, fats, mineral, vitamins and most importantly protein. This is the best source for underweight people especially if you want to build your muscles and if you want to have bigger muscle mass. You can fry it or have it boiled. You may also want to use the egg in any of your favorite dishes.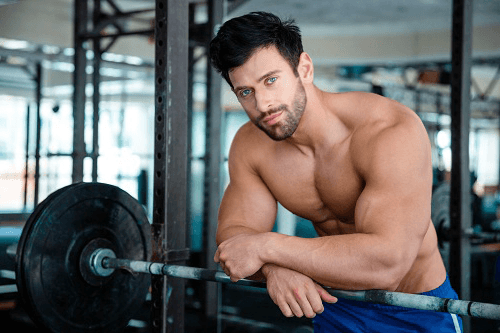 Hi there,
I'm Gregory Brown, chief editor at ConstructMuscles.com
I spend half of my time in this blog while the other half on being physical fitness trainer. Believing in the great benefits of bodybuilding and fitness to the body, I've been motivated to become a fitness enthusiast. It also was what gave me the self-confidence and assurance within myself both physically and psychologically.